Press Releases
Are your shoes the key to your personality? Shoestrology by Ophira and Tali Edut holds the answers!
Discover Your Birthday Shoe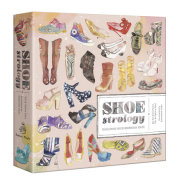 Tali and Ophira Edut
Imprint: Potter Style
On sale: 9/4/12
Price: $17.95
ISBN: 9780307985040
Contact:
Kimberly Small
212.572.6067
ksmall@randomhouse.com
For fashionistas, astrology devotees, or anyone who is starry-eyed about shoes, SHOESTROLOGY: Discover Your Birthday Shoe (Potter Style, $17.95, on sale September 4, 2012) offers an accurate interpretation of your personality as defined by your birthday shoe. Astrologers Ophira and Tali Edut (the AstroTwins) have identified 366 gorgeous shoes—from the Chanel ballet flat to the Alexander McQueen "Armadillo" shoe—and paired them with the personality type associated with each day of the year.  From mile-high Louboutin pumps to crystal-studded Manolo Blahniks, this dazzling parade of shoes is specific to each day of the year and fashionably describes the personality of those born on that day.
Featuring original watercolors by noted fashion illustrator Samantha Hahn along with descriptions of the birthday shoes (and why they are fitting), this book provides cosmic insight and visual delight on every page. For anyone who loves shoes, this is a must-have!
#    #    #
About the Authors:
The AstroTwins, OPHIRA and TALI EDUT, are the astrologers for Elle.com and myLifetime.com and the authors of The AstroTwins' Love Zodiac. They have read charts for celebrities, including Beyoncé, Stevie Wonder, and Sting. Their astrological insight has been featured by MTV, the New York Times, the Style Network, and E! News. They also appear as regular guests on SIRIUS/XM Radio, giving advice to callers each month.
Related Posts: