Press Releases
Apron Anxiety by Alyssa Shelasky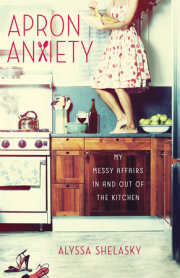 Alyssa Shelasky
Imprint: Crown
On sale: May 22, 2012
Price: $14
Pages: 272
ISBN: 9780307952141
Contact:
Anna Mintz
212-572-6186
amintz@randomhouse.com
"To some people, food can be better than sex.  I am categorically not one of them . . . I am sorry to admit that I have had many pleasures that far exceeded even the most celestial meal.  It's just that those pleasures didn't change my life.  Something else did—something sweet, savory, and salty . . . and oftentimes, unattractive, overcooked, and underseasoned. The truth is I was accidentally anchored by the apron. It happened 'organically,' as in childhood dreams and crazy love, not farm-to-table and Alice Waters. But then again, this is my story about all of that."
—From the Introduction of Apron Anxiety
 "Hot sex, looking good, scoring journalistic triumphs . . . nothing made Alyssa love herself enough until she learned to cook. There's a racy plot and a surprising moral in this intimate and delicious book."
—GAEL GREENE, creator of Insatiable-Critic.com and author of Insatiable: Tales from a Life of Delicious Excess
"Part memoir, part cookbook, Alyssa's writing is honest, witty, and disarming—a compelling journey of a girl becoming her own woman. Though she experiences love and loss, she finds her sweetest days where she least expects it—within herself in the kitchen. With that, Alyssa encourages even the most kitchen phobic to turn on the oven."
—DANYELLE FREEMAN, founder of RestaurantGirl.com and author of Try This: Traveling the Globe Without Leaving the Table
"Amusing, compassionate story of love among the pots and pans."
—Kirkus Reviews
Quintessential city girl Alyssa Shelasky, in her early thirties and a former celebrity reporter and popular writer of the blog ApronAnxiety.com, is not shy. So when she moved from New York City to Washington, DC, to be with her new love, a sexy chef well-known for his success on television, she was not expecting loneliness and despair.  But what followed was no fairy tale: chef hours are tough on a relationship, the food scene deeply intimidated the lifelong kitchen-phobe, and Alyssa's escalating isolation and loss of confidence took an ugly toll.  Apron Anxiety (A Three Rivers Press Paperback Original; May 22, 2012) is Shelasky's hilarious and heartfelt story of reluctantly learning to cook as a final attempt to find happiness and balance in an unfamiliar setting.
Sick of being a buzzkill and a culinary wallflower, while constantly surrounded by some of the biggest names in the restaurant industry, Alyssa decided to give cooking a shot. Apron Anxiety documents her journey from nearly burning down the house to creating dazzling dinner parties for old friends, new friends, boyfriends, exes, and everything in between. Along the way, Alyssa takes us on a wild ride through her childhood in western Massachusetts; her twenties in Manhattan; and dashing around DC, Los Angeles, and Brooklyn. Gradually, she discovers a simple style around the stove, and with it a steady calm. Her creative spirit is reignited, and most important, she experiences the return of her sense of self, independence, and life's simple pleasures.
Apron Anxiety is a memoir peppered with 30 recipes (including humorously named but nonetheless delicious dishes like Rainy Day Rigatoni and Cherry Crumble for Those Who Crumble Too Easily) about the ups and downs of love, the importance of friends and family, learning to cook, and entering the world of food full throttle. Readers will delight in Alyssa's infectious voice as she dishes on everything from her early days of hard partying, to the unstoppable allure of the very sexy chef scene, to the unexpected inner calm of tying on an apron. With a perspective that is funny, sane, and appealing to both food lovers and the kitchen-challenged alike, Apron Anxiety will speak to any reader who aspires to a life well-seasoned.
#             #             #
 ABOUT THE AUTHOR:
ALYSSA SHELASKY is the New York editor of Grub Street at New York magazine, as well as the creator of the blog Apron Anxiety (ApronAnxiety.com). She has written for numerous publications including People, Us Weekly, Hamptons Style, Gotham, Self, Blackbook, TV Guide, the New York Post, CBS's Watch magazine, and Glamour.
Related Posts:
You Might Also Like