Press Releases
Approval Junkie by Faith Salie
Adventures in Caring Too Much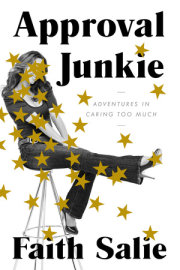 Faith Salie
Imprint: Crown Archetype
On sale: April 19, 2016
Price: $27.00
Pages: 272
ISBN: 9780553419931
Contact:
Tammy Blake
212-572-2542
TBlake@penguinrandomhouse.com
In witty, candid, and sometimes heartbreaking recollections, Emmy-winning
journalist and comedian FAITH SALIE reflects on a lifetime of looking
for validation in all the wrong places—and reveals how
she finally overcame her addiction to gold stars.    
 "Those wise enough to pick up this collection of essays are about to find their newest best friend in Salie…. Plan on reading this once for entertainment, or better, twice for the life lessons available."                                                                                                        –Booklist
"Funny, touching essays on being a multifaceted woman with unique dreams, desires, and needs."                                                                                                         –Kirkus Reviews

"When Salie…writes from the heart, the memoir is as pleasing as they come."
       – Publishers Weekly
---
"Being a true approval junkie does not quite equal being a perfectionist. A perfectionist won't try, for fear of falling short. An approval junkie stumbles, trips, and falls again, each time taking a bow for trying. A perfectionist won't leave the house without her face on. An approval junkie leaves the house to face the next challenge."
—From APPROVAL JUNKIE
Phi Beta Kappa. Rhodes Scholarship. Two Emmy Awards for her work on the venerable CBS News Sunday Morning. And her crowning achievement: Miss Aphrodite 1989—the pinnacle for talented beauty queens at Atlanta's North Springs High School. Who was Faith Salie trying to impress? Pretty much everyone.
As a devoted daughter, a television and public radio star, and a wife who knows how to plan both her first and second wedding overseas, Salie once led a life defined by pleasing others. But lately, since emerging from a toxic relationship, losing her mother, and becoming a mother herself, after multiple miscarriages, she's discovered the rewards of finding her own voice and believing that she is enough (sometimes disturbingly more than enough when it comes to her lactation abilities). Now, in her first book, Salie charts her bumpy ride to self-fulfillment, in APPROVAL JUNKIE: Adventures in Caring Too Much (Crown Archetype, on sale April 19, 2016), delving into such topics as:
Marital mismatch vs. wedded bliss: Three months into her tumultuous marriage to her first husband, Salie was in the throes of a deep depression. When her "wasband" suggested that she undergo an exorcism to get rid of "something dark inside you that you can't control," Salie mulled it over and opted instead for a weeklong Ayurvedic cleansing of the body and mind that put her on the path to enlightenment—a road that eventually led her to Los Angeles divorce court, where, donning a tasteful silk dress (Salie captures the agonizing selection process in "What I Wore to My Divorce"), she rejoined the dating scene. Her recovery team included the savvy woman who administered her eyelash extensions. Salie's marriage to John Semel three years later, after a courtship marked by how effortless and safe it felt (despite her inability to bond with his dogs), is inspiration for anyone who's holding out for a true mensch.
Becoming a mom at age forty-one—the true sign of an "ovary achiever." In scenes that are by turns wrenching and exhilarating, Salie describes the complications she endured while trying to get pregnant at an Advanced Maternal Age—experiencing multiple miscarriages and unpredictable effects of modern medicine in her quest to become a mom. She froze her eggs (discreetly, with CBS News and CNN cameras following her), and ended up beating the odds to twice conceive naturally, resulting in her first miscarriage and, finally, her first child. She underwent a failed artificial insemination while shopping for her second wedding dress and delighted in surprise morning sickness on her honeymoon. She held her baby son close to help her heal from yet another miscarriage and to steel her for yet another round of IVF. But she never stopped peeing on pregnancy sticks at 4 AM with resolute hope. She and John are now the exhausted/grateful parents of two relentlessly energetic children (which leads to a different chapter called "Breastfeeding Sucks").
The skinny on Faith Salie's fit physique: Salie describes her determination to excel at all things, including being thin. Despite her mother's exquisite talent for baking ("her birthday cakes called for preproduction meetings"), Salie's cravings for approval stifled her cravings for food, beginning as early as elementary school. Rice cakes became an indulgence. You could count her ribs. Her BMI plummeted while her GPA soared. And though she now maintains a healthy weight, she admits that she still isn't at peace with her body. "The only advice I have to offer is eat just the crusts of breadlike fare, take the stairs, and try not to hate yourself too much.
Behind the scenes at Wait Wait…Don't Tell Me! Now at the top of her game, Salie dishes on the turning points in her career and delivers stories about what it's like to simultaneously be a veteran of the improv scene and a graduate of Oxford. Her fellow panelists (including Tom Bodett) at NPR's wildly popular Wait Wait…Don't Tell Me! also chipped in and supplied intriguing descriptions of the routines they go through to prep for the show. Capturing the world of Mo Rocca and Peter Sagal, Salie also describes what it's like to be on the other side of a broadcast, including her approval-begging experiences as a guest of Bill O'Reilly and Oprah Winfrey.
What her mother taught her about being a woman. Salie shares heartwarming and hilarious memories of her mother, who died when Salie was only twenty-six. From how to stay sexy (put in Ben Wa balls while making dinner) to how to become resilient—physically and emotionally—Gail Salie brimmed with sparkling life lessons.
A book that will resonate with any woman who's struggled with being judged—and judging herself—for her looks, her brains, her love life, her opinions, or her parenting skills, APPROVAL JUNKIE offers reassurance without lowering the bar. "Some books will tell you to accept yourself and all your flaws. To embrace your curves. You should probably do that if you can," Salie writes. "That kind of ridiculous, enlightened talk never got me where I wanted to go unless where I wanted to go was my refrigerator to binge on Reddi-wip straight into my mouth. . . . This is a book that tells you you're okay just the way you are if the way you are is someone with a palm that doesn't mind being smacked with a high five." Ultimately, Salie learns to validate herself and realizes that "approval of your own life is called gratitude."
Related Posts:
You Might Also Like