Press Releases
Approaching adulthood with style, grace, and humor, from author/illustrator Christie Young
Girl Talk by Christie Young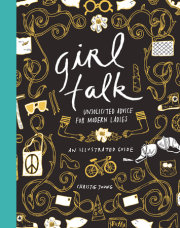 Christie Young
Imprint: Potter Style
On sale: August 26, 2014
Price: $19.95
Pages: 176
ISBN: 9780385345545
Contact:
Natasha Martin
212-782-8370
namartin@penguinrandomhouse.com
Striking out on your own in a new city or phase in life is tough. You quickly need to learn how often to change your sheets, how to sit at a bar alone without the help of an iPhone, and other confounding issues that nobody seems to talk about.
More reassuring than practical, Girl Talk: Unsolicited Advice for Modern Ladies (Potter Style; $19.95; on sale 8/26/14) provides young ladies with a series of illustrated pep-talks for approaching this awkward period with style and grace.
With simple line drawings and a heavy dose of humor, up-and-coming author/illustrator Christie Young pulls from her own experiences to address everyday issues young women face. Christie's candid stories serve as a reference point, testament, and guide to coping with our confusing world, with advice including:
How to prepare for overnight guests
Family: Clean your towels and your search history.
Friends: Leave a trash can, an aspirin, and a glass of water near the bed.
Sexy Friend: Remove the Doritos bag from your bed and change the sheets.
How to test potential roommates from Craig's List
Leave diary out, go to bathroom, return and ask questions only diary would know.
Offer drinks or drugs, judge accordingly.
Role-play various scenarios with them, see how well they do with the tickling one.
Tips on assembling the perfect wardrobe
Things you need: Platform clogs and your mom's jewelry.
Things you borrow: Anything ugly-cute and stuff that needs to be dry-cleaned.
Things to pass: Any article of clothing that comes in a version for dogs or babies.
With additional chapters on relationships (how to make sense of his strange use of emoticons), your body (what to do when you forget deodorant), and daily mishaps (accidentally shop-lifting from the farmer's market), this illustrated guide is a must-have for the modern young lady.
ABOUT THE AUTHOR:
Christie Young is an illustrator/web designer/youngish lady living in Brooklyn whose work has appeared in Nylon, Madewell, and Good. She originated "The Rules" for Good in 2011. Her love for sci-fi on Netflix knows no bounds.
Related Posts: