Press Releases
AN APPLES-TO-ZUCCHINI ENCYCLOPEDIA OF SPIRALIZING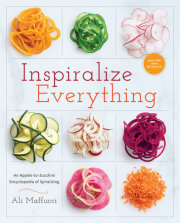 Ali Maffucci
Imprint: Clarkson Potter
On sale: 8/16/2016
Price: $21.99
Pages: 288
ISBN: 9781101907450
Contact:
Erica Gelbard
212-572-6182
egelbard@penguinrandomhouse.com
The spiralizer, a kitchen tool that turns vegetables and fruits into noodles, has revolutionized healthy cooking. It has helped home cooks everywhere turn their favorite high-carb, high-caloric dishes into clean and nutritious meals that fit into any diet, from paleo to gluten-free to low-carb to raw and beyond. Ali Maffucci is the undisputed leader of this movement, and now she's making it easier than ever to spiralize every meal, from pasta to rice dishes!
INSPIRALIZE EVERYTHING: An Apples-to-Zucchini Guide of Spiralizing (Clarkson Potter/Publishers; August 16, 2016; $21.99; Trade Paperback) is the highly anticipated follow-up to Inspiralized, Ali Maffucci's New York Times bestselling debut cookbook. INSPIRALIZE EVERYTHING is organized according to produce type so that readers can cook with what they already have on hand or find at the market. These 100 recipes will be simple, versatile, and varied, with special attention paid not only to health categories, but also to such categories as no-cook, good-for-leftovers, and more. Recipes include:
• APPLE: Curried Apple Egg Salad Wrap, Ginger Pear and Apple Sangria
• BEET: Spiced Lamb Skewers with Beet Noodles, Chicken Tagine with Apricot Golden Beet Rice
• BELL PEPPER: Summer Ratatouille, Bell Pepper Beef Taco Fiesta Skillet
• BROCCOLI: Shrimp Tom Kha with Broccoli Noodles
• BUTTERNUT SQUASH: Butternut Squash Rice and Beans Bowl, Butternut Squash Noodles with Almond Ricotta and Coconut Bacon
• CABBAGE: Cabbage Buddha Bowl with Chickpea-Avocado Mash and BBQ Tahini
• CARROT: Mom's Matzo Ball Soup with Carrot Noodles, Za'atar Chickpeas over Radicchio and Carrot Salad
• CELERIAC: Buffalo Wings with Celeriac Slaw
• CHAYOTE: Blackened Tilapia with Chayote-Mango Pasta Salad
• CUCUMBER: Tuna Tartare with Cucumber Noodles and Seaweed
• JÍCAMA: Cold Vietnamese Jícama Noodle Salad, No Lettuce Jícama Cobb Salad
• KOHLRABI: Chicken Mole with Kohlrabi Rice, Kohlrabi Tortilla Soup with Shrimp
• ONION: No-Cheese French Onion and Lentil Soup, Vegan Kale and Quinoa Salad with Pickled Onions and Caesar Dressing
• PARSNIP: Avocado "Toast" with Cherry Tomato Jam, Broccoli Rabe, and Sausage Parsnip Pasta
• PEAR: Gluten-Free Cinnamon-Pecan Pear Noodle Pancakes; Grilled Haloumi, Lentils, and Arugula with Roasted Fennel and Pear Noodles
• RADISH: Ginger Crab Fried Daikon Rice, Hot-and-Sour Soup with Daikon Noodles
• RUTABAGA: Mussels over Rutabaga Noodles, Rutabaga Baked Ziti with Mushrooms and Kale
• SWEET POTATO: Tandoori Chicken with Sweet Potato Rice, Sweet Potato Pizza Skillet
• TURNIP: Turnip alla Vodka, Turnip Risotto with Crispy Pancetta and Chives
• WHITE POTATO: Loaded Potatoes with BBQ Sauce, Pan Con Tomate with Serrano Ham
• ZUCCHINI & SUMMER SQUASH: Green Goddess Zucchini Pasta, Italian-Style Chicken Sliders, Zucchini Ravioli with Tomato Basil and Cashew Cheese
Ali also includes nutritional information, flavor variations, and tons of technical tips and tricks for using the spiralizer. Readers will rejoice at the versatility and creativity this cookbook brings to the hottest new gadget in their kitchen.
ABOUT THE AUTHOR:
ALI MAFFUCCI is the New York Times bestselling author of Inspiralized. Combining her deep-rooted love for pasta with her desire for a healthy lifestyle, Ali launched Inspiralized.com, a blog dedicated to cooking creatively and nutritiously with the spiralizer. She lives in Jersey City, New Jersey, with her husband, Lu.
Inspiralized.com
@inspiralized
#inspiralizeeverything

Related Posts:
You Might Also Like