Press Releases
Apollo 13 meets Castaway in Andy Weir's The Martian
Weir delivers a grippingly detailed, brilliantly ingenious man-vs-nature survival thriller—set on the surface of Mars.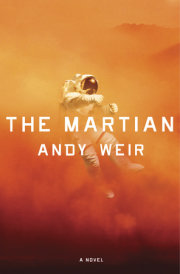 Andy Weir
Imprint: Crown Publishers
On sale: February 11, 2014
Price: $24.00
Pages: 384
ISBN: 9780804139021
Contact:
Sarah Breivogel
212-572-2722
sbreivogel@randomhouse.com
Praise for The Martian
"Brilliant…a celebration of human ingenuity [and] the purest example of real-science sci-fi for many years…Utterly compelling."—Wall Street Journal 
"Gripping…[features] a hero who can solve almost every problem while still being hilarious. It's hard not to be swept up in [Weir's] vision and root for every one of these characters. Grade: A."—AVClub.com
"Humankind is only as strong as the challenges it faces, and The Martian pits human ingenuity (laced with more humor than you'd expect) against the greatest endeavor of our time — survival on Mars. A great read with an inspiring attention to technical detail and surprising emotional depth. Loved it!"—Daniel H. Wilson, New York Times bestselling author of Robopocalypse
"One of the best thrillers I've read in a long time. It feels so real it could almost be nonfiction, and yet it has the narrative drive and power of a rocket launch. This is Apollo 13 times ten." —Douglas Preston, #1 New York Times bestselling author of Impact and Blasphemy
 
"A book I just couldn't put down! It has the very rare combination of a good, original story, interestingly real characters and fascinating technical accuracy…reads like 'MacGyver' meets 'Mysterious Island.'" —Astronaut Chris Hadfield, Commander of the International Space Station and author of An Astronaut's Guide to Life on Earth
"The best book I've read in ages. Clear your schedule before you crack the seal. This story will take your breath away faster than a hull breech. Smart, funny, and white-knuckle intense, The Martian is everything you want from a novel." —Hugh Howey, New York Times bestselling author of Wool
"The Martian kicked my ass! Weir has crafted a relentlessly entertaining and inventive survival thriller, a MacGyver-trapped-on-Mars tale that feels just as real and harrowing as the true story of Apollo 13." —Ernest Cline, New York Times bestselling author of Ready Player One
 
"Gripping…shapes up like Defoe's Robinson Crusoe as written by someone brighter."—Larry Niven, multiple Hugo and Nebula Award-winning author of the Ringworld series and Lucifer's Hammer

"The tension simply never lets up, from the first page to the last, and at no point does the believability falter for even a second. You can't shake the feeling that this could all really happen."—Patrick Lee, New York Times bestselling author of The Breach and Ghost Country 
 
"Strong, resilent, and gutsy. It's Robinson Crusoe on Mars, 21st century style.  Set aside a chunk of free time when you start this one.  You're going to need it because you won't want to put it down." —Steve Berry, New York Times bestselling author of The King's Deception and The Columbus Affair

"An excellent first novel…Weir laces the technical details with enough keen wit to satisfy hard science fiction fan and general reader alike [and] keeps the story escalating to a riveting conclusion."—Publisher's Weekly (starred)

"Riveting…a tightly constructed and completely believable story of a man's ingenuity and strength in the face of seemingly insurmountable odds."—Booklist

"Sharp, funny and thrilling, with just the right amount of geekery…Weir displays a virtuosic ability to write about highly technical situations without leaving readers far behind. The result is a story that is as plausible as it is compelling."—Kirkus
"Weir combines the heart-stopping with the humorous in this brilliant debut novel…by placing a nail-biting life-and-death situation on Mars and adding a snarky and wise-cracking nerdy hero, Weir has created the perfect mix of action and space adventure."—Library Journal (starred) 
Six days ago, astronaut Mark Watney became one of the first people to walk on the surface of Mars. Now, he may be the first person to die there.
Andy Weir's brilliant debut novel THE MARTIAN (Crown Publishers, February 11, 2014) is a gripping story of survival against all odds…set in space. Wise-cracking astronaut Watney is a member of Ares 3, the third manned mission to Mars, scheduled for a two-month assignment. After an epic dust storm threatens the crew's ascent, they are forced to abort the mission. Watney, separated from the rest of the team, is unintentionally abandoned, with the rest of the crew believing him to be dead. Now he's stranded millions of miles from the nearest human being, with no way to even signal Earth that he's alive—and even if he could get word out, his food would be gone years before a rescue mission could arrive. Chances are, though, he won't have time to starve to death. The damaged machinery, unforgiving environment, or plain-old "human error" are much more likely to get him first. But Mark isn't ready to give up yet. Drawing on his MacGyver-esque ingenuity, mechanical engineering skills, and a relentless, dogged refusal to quit, he steadfastly confronts one seemingly insurmountable obstacle after the next. But will his resourcefulness be enough to overcome the impossible odds against him?
In THE MARTIAN, all of the obstacles Weir's hero confronts, and the solutions he engineers, are entirely believable and science-based thanks in large part to Weir's relentless research and fascination with NASA, orbital mechanics, relativistic physics, astronomy, and the history of manned spaceflight. If we started planning a manned mission to Mars tomorrow, it would look a lot like what's depicted in these pages. Weir even calculated the various orbital paths involved in the story to make the physics of space travel as accurate as possible, which required him to write his own software.
THE MARTIAN was already a word-of-mouth phenomenon as a self-published ebook, shooting up the charts to Amazon's top 200 overall while garnering over 1,100 5-star reviews on
Amazon and another 650 5-star reviews on Goodreads. As those early readers have already shown, THE MARTIAN just might be the most immersive, believable suspense novel you've ever read—a book not just for thriller readers, but for fans of man-versus-nature tales like A Perfect Storm, Shadow Divers, 127 Hours, Apollo 13, Robinson Crusoe, and Castaway.
Now in a revised and edited new edition, with more than nineteen foreign deals already in place and film rights sold at auction to writer-producer Simon Kinberg (Mr. & Mrs. Smith, Sherlock Holmes, X-Men: First Class), THE MARTIAN is a remarkable debut that's ready and waiting for its realliftoff.
ABOUT THE AUTHOR
Andy Weir was first hired as a programmer for a national laboratory at age fifteen and has been working as a software engineer ever since. He is also a lifelong space nerd and a devoted hobbyist of subjects like relativistic physics, orbital mechanics, and the history of manned spaceflight. The Martian is his first novel.
Related Posts:
You Might Also Like