Press Releases
Apéritif by Rebekah Peppler
Cocktail Hour the French Way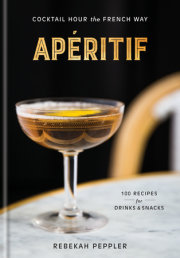 Rebekah Peppler
Imprint: Clarkson Potter
On sale: October 16, 2018
Price: $18.99
Pages: 224
ISBN: 9781524761752
Contact:
Jana Branson
jbranson@penguinrandomhouse.com
For the French, the fleeting interlude between a long workday and the evening meal to come is not meant to be hectic or crazed. Instead, that time is a much needed chance to pause, take a breath, and reset with light drinks and snacks. Whether it's a quick affair before dashing out the door to a favorite Parisian bistro or a lead-up to a more lavish party, Apéritif: Cocktail Hour the French Way (Clarkson Potter | October 16, 2018 | $18.99 | Hardcover) is about kicking off the night, rousing the appetite, and doing so with the carefree spirit of connection and conviviality.
Keeping true to the apéritif tradition, Rebekah Peppler's collection features cocktail recipes that use lighter, low-alcohol spirits, fortified wines, and bitter liqueurs. The impressive drinks have influences from both Old World and New, but are always low fuss and served barely embellished—an easy feat to pull off for the relaxed host at home. Apéritif also offers recipes for equally breezy bites, such as Radishes with Poppy Butter, Gougères, Ratatouille Dip, and Buckwheat-Sel Gris Crackers.
Organized seasonally, sample chapters include:
WARM | drinks for when the weather is just right
HOT | drinks for the most sweltering of days
COOL | drinks for crisp days + cool nights
COLD | drinks for when it's too damn cold out
APÉRITIF SHOTS | for when it's time to do shots
BITES | for between sips
For evenings that are all about ease and approachability without sacrificing style or flavor, Apéritif makes drinking and entertaining at home as cool and effervescent as the offerings themselves.
ABOUT THE AUTHOR:
REBEKAH PEPPLER is a Paris-based writer and food stylist. Her clients include the New York Times, Bon Appétit, Real Simple, Rachael Ray Magazine, Gather Journal, Food Network, Tasting Table, and multiple cookbooks. You can find more on rebekahpeppler.com and instagram.com/rebekahpeppler.
# # # 
APÉRITIF
Cocktail Hour the French Way
by Rebekah Peppler
Clarkson Potter/Publishers
On sale: October 16, 2018
ISBN 978-1-5247-6175-2 | $18.99 | Hardcover
ADVANCE PRAISE
for
APÉRITIF
Cocktail Hour the French Way
by Rebekah Peppler
"Rebekah Peppler's charming book captures the joy of the French apéritif hour. Stylish and sophisticated, Apéritif just makes you want to gather with friends for drinks and snacks."
—Mimi Thorisson, author of French Country Cooking
"Being French, some of my warmest memories and most interesting conversations have taken place at apéro time, that magical moment of the day when friends unwind and connect. Now, Rebekah's gorgeous book gives you everything you need to create your own."
—Clotilde Dusoulier, author of TASTING PARIS: 100 Recipes to Eat Like a Local
"J'adore Rebekah Peppler's beautiful book Apéritif! As someone who pines for France regularly, I love how this book makes me feel as though I'm not that far away. Peppler's fun, conversational voice shines through and encourages readers to re-create their own l'apéro hour at home and gives you the tools to do just that. Beautiful images are showcased alongside witty stories and approachable recipes. I'll be cooking and drinking from this book often. Santé!"
—Colu Henry, author of Back Pocket Pasta
"Both a practical, well-researched guide and a cultural zoom on one of the most beloved French traditions, Apéritif is a must-have reference for anyone who likes to gather, nibble, and drink with friends."
—Lindsey Tramuta, author of The New Paris: The People, Places & Ideas Fueling a Movement
"Rebekah Peppler's Apéritif is as effervescent as it is instructive. If you are new to the beautifully civilized ritual it honors and illuminates, you're in for an enduring treat. If you're already a devotee, this book will galvanize your commitment and expand your recipe repertoire."
—Rosie Schaap, author of Drinking with Men
"Just like its recipes, Apéritif is bright and refreshing, piquing the palate with its stylish modern take on a French tradition. It's the A.P.C. of l'apéro!
—Christine Muhlke, Bon Appétit
"In Apéritif , Brooklyn cool-girl turned Parisian Bon Vivant Rebekah Peppler showers us in a collection of simple yet delightful wonders. The bewitching excitement of l'heure de l'apéro is perfectly captured in this stylish and much needed book on the forgotten art of before-dinner drinks. Apéritif is so marvelous, you won't want dinner to ever begin!"
––Victoria James, sommelier and author of Drink Pink: A Celebration of Rosé
"Apéritif is a beautiful celebration of apéritif culture—a culture where friendship is at the very center of everyday life. Peppler's collection of recipes is refined and elegant yet easy to whip up for a lovely solo refresher with a newspaper or an alfresco dinner with company."
—Natasha David, co-owner of Nitecap in New York City
Related Posts: