Press Releases
THE APACHE WARS
The Hunt for Geronimo, the Apache Kid, and the Captive Boy Who Started the Longest War in American History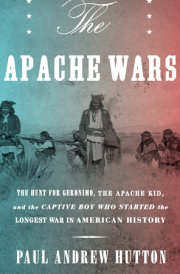 Paul Andrew Hutton
Imprint: Crown
On sale: May 3, 2016
Price: $30.00
Pages: 544
ISBN: 9780770435813
Contact:
Sarah Jean Grimm
212-782-8637
sgrimm@penguinrandomhouse.com
When a band of a dozen Apaches kidnapped a slight eleven-year-old boy in Arizona's Sonoita Valley in 1861, they could hardly have predicted the impact it would eventually have on the history of the entire region. But, as renowned historian Paul Andrew Hutton recounts in his remarkable work THE APACHE WARS: The Hunt for Geronimo, the Apache Kid, and the Captive Boy Who Started the Longest War in American History (Crown; May 3, 2016), the boy would become a man named Mickey Free, and his kidnapping ignited a decades-long war that both sides—the Apaches and the white invaders—would blame him for.
A mixed-blood warrior who moved uneasily between the worlds of the Apaches and the American soldiers, Mickey Free was never trusted by either but desperately needed by both. He was the only man Geronimo ever feared. And he played a pivotal role in this long war for the desert Southwest from its beginning in 1861 until its end in the 1890s with his pursuit of the renegade scout, the Apache Kid. This is Mickey Free's story but also the story of the great Apache leaders Mangas Coloradas, Cochise, and Victorio; the soldiers Kit Carson, O. O. Howard, George Crook, and Nelson Miles; the scouts and frontiersmen Al Sieber, Tom Horn, Tom Jeffords, and Texas John Slaughter; the great White Mountain scout Alchesay and the Apache female warrior Lozen; the legendary fierce Apache warrior Geronimo; and the Apache Kid.
As Hutton explains, the lives of Mickey Free and his contemporaries shaped the brutal history of the deserts and mountains of the Southwestern borderlands—an area "where every plant bore a barb, every insect a stinger, every bird a talon, every reptile a fang—an inhospitable, deadly environment known to the outside world as Apachería." In this bleak and unforgiving world, a people would make their final, bloody stand against an American war machine bent on their destruction.

In this sprawling, monumental work, in language by turns poetic and violent, Hutton examines more than two decades of the last war for the West through the eyes of the men and women who lived it. In the process, he separates myth from reality and draws real flesh and blood characters out of fabled historical figures.
Related Posts: