Press Releases
Anya Von Bremzen's masterful memoir Mastering the Art of Soviet Cooking, now in paperback
A James Beard Award–winning writer captures life under the Red socialist banner in this wildly acclaimed, tragicomic memoir of feasts, famines, and three generations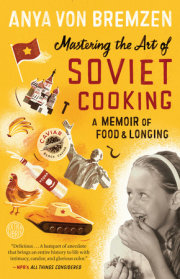 Anya Von Bremzen
Imprint: Broadway Books
On sale: September 16, 2014
Price: $15.00
Pages: 368
ISBN: 9780307886828
Contact:
Abigail Murdy
212-572-2247
amurdy@randomhouse.com
"The culinary memoir has lately evolved into a genre of its own, what is now known as a 'foodoir.' But Anya von Bremzen is a better writer than most of the genre's practitioners, as this delectable book, which tells the story of postrevolutionary Russia through the prism of one family's meals, amply demonstrates. . . . Von Bremzen moves artfully between historical longshots (minefields being cleared 'by sending troops attacking across them') and intimate details, like her schoolgirl mother's lunch ration of podushechka, a candy the size of a fingernail. . . . The descriptions of meals are delightful."
—Sara Wheeler, New York Times Book Review 
"Von Bremzen ladles out a rich, zesty history of family life in the USSR conveyed through food and meals."
—Entertainment Weekly

"Mastering the Art of Soviet Cooking turns a bittersweet eye and an intelligent heart on Soviet history through food. . . . Beautifully told."
—Mary MacVean, Los Angeles Times
"An ambitious food memoir that is also a meticulously researched history of the Soviet Union . . . a meditation on culinary nostalgia."
—Julia Moskin, New York Times
"It is a painstakingly researched and beautifully written cultural history . . . the best kind of memoir: one with a self-aware narrator who has mastered the art of not taking herself entirely seriously."
—Masha Gessen, New York Review of Books
"A delicious narrative of memory and cuisine in twentieth-century Soviet Union. In Mastering the Art of Soviet Cooking, [von Bremzen] follows in the footsteps of Nigel Slater's Toast and Anthony Bourdain's Kitchen Confidential: memoirs about life, love, and food that linger long after the last page is turned. Her tale is a nostalgia-laden compendium of madeleine moments. . . . A banquet of anecdote that brings an entire history to life with intimacy, candor, and glorious color."
—Ellah Allfrey, NPR's All Things Considered
"One-of-a-kind . . . A nostalgically anti-nostalgic tribute to twentieth-century life and food in the land once known as the Soviet Union . . . Breathtaking feats of raconteurial skill . . . Mastering the Art of Soviet Cooking is not only a magic tablecloth, it's a magic carpet that revisits the roads and lanes of the former Soyuz, surveying the tales of hardship and hardwon joys of von Bremzen's relatives and the Russian people."
—Liesl Schillinger, Daily Beast
"Russian treasures! You never know when they're going to pop up. My heart gladdened at the sight of Anya von Bremzen's book. This is history at a personal level, the kitchen table."
—Martin Cruz Smith, Wall Street Journal
"Brilliant . . . a lyrical memoir and multifaceted reflection on Soviet (and American) cultures."
—Craig LaBan, Philadelpia Inquirer
Part bittersweet family chronicle, part historical epic, part modern-day kitchen adventure, Anya von Bremzen's MASTERING THE ART OF SOVIET COOKING: A Memoir of Food and Longing (Broadway Books; September 16, 2014) is wholly original and startlingly beautiful. Novelistic in sweep yet intimately tuned, Anya's story moves effortlessly from reveries about kotleti (Soviet burgers) to chilling scenes of arrests under Stalin; from heartbreaking ruminations on exile to small haunting images, such as the one of herself, "a nine-year-old fledgling black marketeer in a scratchy brown uniform," charging her Soviet classmates five kopeks to touch a bottle of Coca-Cola.
Born in 1963, Anya grew up in Moscow, in a Kafkaesque communal apartment where eighteen families shared one kitchen. She spent her childhood singing odes to Lenin, watching her father brew moonshine, and, like most Soviet citizens, longing for a taste of the mythical West. It was a life by turns absurd, drab, naively joyous—and ultimately intolerable to her anti-Soviet mother. When she was ten, Anya and her mother fled the political repression of Brezhnev-era Russia, arriving in Philadelphia with only two tiny suitcases. Today Anya is an accomplished food writer, author of five acclaimed cookbooks and regular contributor to national magazines. And yet, she still inhabits two parallel food universes: one where four-star meals are routine, another where a taste of humble kolbasa transports her back to that "Scarlet Atlantis" known as the USSR. By turns wistful and unflinching, Anya tells the story of three Soviet generations and their complex relationship with totalitarian power—and food.
In MASTERING THE ART OF SOVIET COOKING we meet her grandfather Naum, a glamorous intelligence chief under Stalin; and her grandmother Liza, who made a perilous odyssey to icy, blockaded Leningrad to find Naum during World War II. We also meet Anya's hard-drinking, cynical father, Sergei, who worked at the cadaver-filled lab attached to Lenin's mausoleum; and her beloved mother, Larisa, the romantic dreamer who grew up dreading the voices on the black public loudspeakers broadcasting the glories of the Five-Year Plan. This intimate family narrative unfolds against the panorama of Soviet history: Lenin's bloody grain requisitioning, World War II hunger and survival, Stalin's sadistic table manners, Khrushchev's kitchen debates, Gorbachev's disastrous anti-alcohol policies, and, ultimately, the collapse of the USSR.
What was it like to live in a country where every edible morsel had a political meaning? MASTERING THE ART OF SOVIET COOKING shows how food—not having it, longing for it, feasting it on it when you were lucky—was central to anyone who lived in the USSR. To explore that connection and make sense of their shared socialist past, Anya and her mother embark on a journey unlike any other: they decide to eat and cook their way through each decade of the Soviet experience, turning Larisa's kitchen into "a time machine and an incubator of memories."
Writing in an utterly distinctive voice that's at once sardonic and poignant, Anya brilliantly captures the strange mix of idealism, terror, self-sacrifice, longing, and cynicism that defined life in the Soviet Union—and makes us reconsider the meaning and power of food in our own lives.
ANYA VON BREMZEN is the winner of three James Beard awards; a contributing editor at Travel + Leisure magazine; and the author of five acclaimed cookbooks, among them The New Spanish Table, The Greatest Dishes: Around the World in 80 Recipes, and Please to the Table: The Russian Cookbook (coauthored by John Welchman). Her memoir, Mastering the Art of Soviet Cooking, won the Guild of Food Writers 2014 Food Book of the Year in UK. She contributes regularly to Food & Wine and Saveur and has written for The New Yorker, Departures, and the Los Angeles Times. She divides her time between New York City and Istanbul.
Related Posts: