Press Releases
Anna Hrachovec's latest book offers 20 whimsical patterns for supersized bags, squishy anthromorphic friends, pillows, piñatas, and monster trucks
Huge & Huggable Mochimochi: 20 Supersized Patterns for Knitted Friends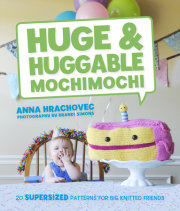 Anna Hrachovec
Imprint: Potter Craft
On sale: October 15, 2013
Price: $21.99
Pages: 160
ISBN: 9780385344579
Contact:
Kim Small
212-572-6067
ksmall@randomhouse.com
No doubt. Bigger is better.
Anna Hrachovec introduced America to her witty, whimsical, and slightly strange character designs in her first three books, Knitting Mochimochi, Teeny-Tiny Mochimochi, and Super-Scary Mochimochi. Now, her fourth book, HUGE & HUGGABLE MOCHIMOCHI: 20 Supersized Patterns for Knitted Friends (Potter Craft; $21.99; on sale October 15, 2013), allows her mochimochis to break out in a big way—and gives us more to love! 
HUGE & HUGGABLE MOCHIMOCHI features 20 patterns for supersized bags, squishy anthromorphic friends, pillows, piñatas, and monster trucks. What kid wouldn't want a playful pirate or dinosaur to lounge with, and what student wouldn't like a jumbo knitted pencil? What foodie wouldn't love a truly supersized burger, or an enormous slice of perfect birthday cake?
These whimsical projects are equally at home in a kid's playroom, a dorm room, or a hipster's apartment. And like all of Anna's designs, these mochis are made to work up quick with simple techniques and she also explains how to size the projects up or down so any knitter can customize each piece as desired. As always, she includes a wealth of step-by-step photos and an in-depth knitting glossary.