Press Releases
An inspiring idea book for family portrait photographers from the founder of Design Aglow
The Design Aglow Posing Guide for Family Portrait Photography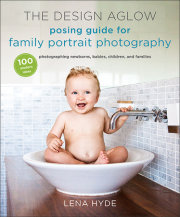 Lena Hyde
Imprint: Amphoto Books
On sale: August 27, 2013
Price: $21.99
Pages: 224
ISBN: 9780385344807
Contact:
Kim Small
212-572-6067
ksmall@randomhouse.com
Perhaps you've just turned pro and have landed your first family portrait shoot, and you're unsure how best to approach posing. Or maybe you're a veteran family photographer, facing more intense competition than ever, and are trying to find your edge.  Or, let's say you've just hired a photographer to capture your family, or you want ideas for photographing your own family.  Wouldn't it be great to thumb through a book of beautiful ideas and flag some in advance for the photographer?
THE DESIGN AGLOW POSING GUIDE FOR FAMILY PORTRAIT PHOTOGRAPHY (Amphoto Books, on sale August 27, 2013, $21.99) is the answer for each of these scenarios. This idea book for family portrait photographers, clients, and hobbyists alike features 100 fresh, modern poses for newborns and babies, children, siblings, and families. These inspiring ideas come straight from the industry's biggest names, including Anna Kuperberg, Jose Villa, Elizabeth Messina, Tara Whitney, and Rachel Devine. Each pose is accompanied by tips on directing your subjects and suggestions for alternate shots you can capture from the same setup.
Author Lena Hyde, a professional photographer and founder of Design Aglow (www.designaglow.com), gives us an easy and accessible guide for taking compelling portraits of family members of all ages. Both practical and utterly inspirational, this guide is an indispensable resource for family photographers of all levels.
About the Author:
LENA HYDE is a professional portrait photographer and founder of Design Aglow (designaglow.com), a premier online resource for professional photographers that attracts more than 400,000 visits each month. Lena's photography has been exhibited in galleries and museums around the world, including the San Francisco Museum of Modern Art and Casa da Fotografia Fuji in Brazil, and has been featured, along with her design work, in such publications as Martha Stewart Everyday Food, USA Today, People, Life, San Francisco Chronicle, Rangefinder, and Professional Photographer; online at The Knot and Decor8; and in the book Mamarazzi. Lena teaches several sold-out workshops each year and acts as a consultant to top photography studios around the world. You can find her at www.lenahyde.com.
Related Posts:
You Might Also Like