Press Releases
An impeccably curated collection from Epicurious with more than 250 of their "4-fork" recipes
The Epicurious Cookbook by Tanya Steel and The Editors of Epicurious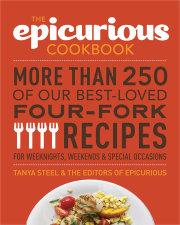 Tanya Steel and the Editors of Epicurious
Imprint: Clarkson Potter
On sale: October 30, 2012
Price: $27.99
Pages: 400
ISBN: 9780307984852
Contact:
Erica Gelbard
212-572-6182
egelbard@randomhouse.com
In THE EPICURIOUS COOKBOOK (Clarkson Potter/Publishers; on sale October 30, 2012), Epicurious editor-in-chief Tanya Steel and her team of food editors culled their database of nearly 200,000 recipes and selected top-rated dishes that reflect how we cook and eat today; they sought make-ahead dishes, time-tested crowd-pleasers, fast and fresh dinners, and food that will tantalize vegetarians, vegans, and gluten-free eaters.
The first-ever Epicurious cookbook serves up the site's best-loved four-fork recipes that work every time and will remain mainstays in your repertoire. Some are signature dishes from kitchen heroes like Tom Colicchio and Dorie Greenspan; others are classics from beloved magazines such as Gourmet and Bon Appétit; and many hail from renowned food writers and talented Epicurious members who share their family secrets for delicious home cooking.
THE EPICURIOUS COOKBOOK will inspire you when you need to be practical—and when you need to go all out. Drawing on their expertise as home cooks themselves, Tanya Steel and her team have compiled a versatile and beautiful cookbook with stunning photography, helpful headnotes, member tips, menu ideas, and recipes, including:
EASY COMFORT FOODS: Chicken and Fall Vegetable Pot Pie; Spicy Mac and Cheese with Pancetta; Beef Short Ribs Tagine; Deviled Fried Chicken
FAST WEEKNIGHT DINNERS: Quick Paella; Grilled Asian Flank Steak with Sweet Slaw; Rosemary Lamb Chops; Spicy Orange Tilapia
PLEASE-EVERYONE VEGETARIAN AND VEGAN DISHES: Chilled Soba with Tofu and Sugar Snap Peas; Spiced Lentil Tacos; Roasted Eggplant Salad; Lacinato Kale and Ricotta Salata Salad
SPECIAL OCCASION SHOWSTOPPERS: Cedar-Planked Salmon with Maple Glaze; Beef Brisket with Merlot and Prunes; Red Wine–Braised Duck Legs; Spiced Pumpkin Layer Cake
UPDATED AMERICAN CLASSICS: Coffee-Rubbed Cheeseburgers; Asparagus, Fingerling Potato, and Goat Cheese Pizza; Lobster Pasta; Grilled Cheese with Onion Jam, Taleggio, and Escarole; Crab Hush Puppies; Pound Cake with Blueberries
BREAKFAST AND BRUNCH STARS: Ultimate Sticky Buns; Kitchen Sink Frittata; Cardamom Iced Tea; Chorizo and Scrambled Egg Breakfast Tacos
DECADENT DESSERTS: Double Chocolate Layer Cake; Apple Tart with Caramel Sauce; Frozen Lemon Ginger Snap Pie; Peanut Butter and Fudge Brownies
Filled with recipes you will make again and again THE EPICURIOUS COOKBOOK is destined to be a classic for daily use.
###
TANYA STEEL is the editor in chief of Epicurious, the most award-winning digital food brand. She is also the editor of Gourmet Live and Gourmet.com. Winner of a James Beard Award for restaurant reviewing, and a member of the Digital Hall of Fame, Steel was previously an editor at Bon Appétit, Diversion, Food & Wine, and Mademoiselle, and was a frequent contributor to the New York Times "Living Section." She is a coauthor of the award-winning Real Food for Healthy Kids.
 EPICURIOUS reaches more than 18 million passionate food enthusiasts each month through its website, apps, and social media. With nearly 200,000 recipes from premier brands in food journalism, chefs, cookbooks, and users, Epicurious offers a wealth of original content, videos, and tips focused on all aspects of cooking. The Epicurious app is available across multiple platforms, including the iPad/iPhone, Android, the Barnes and Noble NOOK, the Kindle, Microsoft Windows 7 Phone, and the Samsung LCD Refrigerator with Apps. Epicurious is the most award-winning digital food brand, with 67 accolades.
Related Posts:
You Might Also Like