Press Releases
AMERICAN WOLF by Nate Blakeslee
A True Story of Survival and Obsession in the West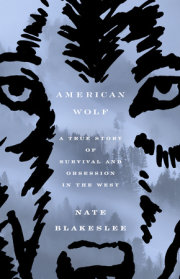 Nate Blakeslee
Imprint: Crown
On sale: October 17, 2017
Price: $28.00
Pages: 320
ISBN: 9781101902783
Contact:
Sarah Breivogel
212-572-2722
sbreivogel@penguinrandomhouse.com
Praise for Nate Blakeslee and American Wolf

PRAISE FROM THE MEDIA
"A masterful and elegant tale."
—Associated Press

"In this vibrant work of nonfiction, a Texas Monthly writer goes into the mind – and heart – of a wolf. He tells the remarkable true story of O-Six, a wolf brought back to the Rockies by conservationists, as she fights hunters, cattle ranchers, and her own species for survival."—Entertainment Weekly
"[A] rich, poignant story of wolf recovery in Yellowstone and its impacts on the surrounding countryside and communities." —National Parks Traveler
"Engaging…a must read for researchers, citizen scientists, and visitors to Yellowstone, where the story of the wolves continues to evolve." —Science
"[American Wolf] reads like a novel… a testament to the genius of Blakeslee's tautly constructed narrative."—Outside Magazine
"Blakeslee takes readers into the snowy [Lamar Valley], and deep into a genuinely human tale told with the energy and verve of a bestselling thriller. A tight, dense narrative, American Wolf races along like a predator on the hunt." —TX Observer
"A savory blend of hardcore journalism, biodiversity analysis, weather and terrain reporting and good old-fashioned storytelling… American Wolf is the tale of an extraordinary wolf and those absorbed with her storied life."—Shelf Awareness
"The fight… [over] Yellowstone's wolves is embodied in O-Six's story, told with great immediacy and empathy in a tale that reads like fiction. This one will grab readers and impel them into the heart of the conflict." —Booklist (starred review)
"Beautiful, detailed. . . [American Wolf] centers on the rise, reign, and family life of O-Six, matriarch of the Lamar Canyon pack and so well-known to park visitors that the New York Times gave her an obituary" —Publisher's Weekly (starred review)
"Utterly compelling….Blakeslee's masterly use of fiction writing techniques to ratchet up the tension will hook a wide swath of readers." —Library Journal (starred review)
"A well-rendered story…evenhanded but clearly and rightly on the side of the wolves." —Kirkus
PRAISE FROM AUTHORS
"With American Wolf, Nate Blakeslee gives us a very different sort of biography—the saga of a single female wolf, 'the most famous wolf in the world,' and her exploits in Yellowstone National Park. It's a startlingly intimate portrait of the intricate, loving, human-like interrelationships that govern wolves in the wild, as observed in real time by a cadre of dedicated wolf-watchers—in the end, a drama of lupine love, care, and grief."—Erik Larson, author of The Devil in the White City and Dead Wake
"Wild, poignant, and compelling, American Wolf is an important, beautifully wrought book about animals, about values, and about living on this earth."—Susan Orlean, author of The Orchid Thief and Rin Tin Tin
"Gripping and fascinating! Wolf versus wolf, wolf versus man, man versus man."—Margaret Atwood, author of The Handmaid's Tale and Hag-Seed (via Twitter)
"American Wolf is a transcendent tale of the American West. I loved the doggedness and depth of the reporting, the texture of the writing. There are echoes of Jack London everywhere. But above all I loved the wolf herself, a character like no other I have ever encountered."—S. C. Gwynne, author of Empire of the Summer Moon and Rebel Yell
"In American Wolf, Nate Blakeslee has achieved the Jack London-like feat of creating a great story whose main character is an animal—which is especially impressive because this is a meticulously reported work of nonfiction. Blakeslee creates a memorable picture of a remote and beautiful part of the United States, where the natural world is magnificent but hardly peaceful, politics is ever-present, and the question at hand is which species is the more dangerous predator, wolves or humans." —Nicholas Lemann, author of The Big Test and Redemption
"There are so few wolves in the West that each one can cast a kind of enchantment. This fine book takes one animal, and uses it as a way to understand the vectors that whipsaw the last wild places. It will linger in your mind and heart."—Bill McKibben, author of The End of Nature and Radio Free Vermont
"American Wolf is an intimate and riveting book about America's most iconic and embattled predator. Blakeslee moves effortlessly between the ancient drama of the wolf pack, and its modern human counterpart, the sometimes-vicious, red state-blue state partisans whose battleground is the fate of the American wolf. A wonderful and welcome addition to the pantheon of nature literature."—John Vaillant, author of The Tiger and The Golden Spruce
"In Nate Blakeslee's riveting, endlessly adventurous narrative, the world of Yellowstone alpha wolf O-Six comes vividly alive and yet remains brutally wild. Gorgeously written, and offering stunning insights into both animal and human nature, American Wolf is a masterly feat of science journalism." —Michael Finkel, author of The Stranger in the Woods
"As in a great novel, we are swept along in a multi-generational saga involving matters of character, courtship, and shifting social relations. Except this is a story of wolves and wolf packs, as closely observed through the years by scientists, not nature poets. And in the background, the human fates and furies who control the animals' destiny: hunters and ecologists and fanatics struggling to adapt an ancient mythology of wolf-terror to the modern American West."—Tom Kizzia, author of Pilgrim's Wilderness
"Heartbreaking front-line coverage of our war on the wild…. Blakeslee hauntingly gives the victims faces, families and stories. A quietly angry, aching, important book."—Charles Foster, author of Being a Beast
"A compelling environmental drama of the reintroduction of wolves to the Rockies, as clear-sighted on human politics as it is on wolf politics. As wolf packs battle one another for control of precious territory, unknown to them another battle is taking place, between the wolves' supporters and those who would eradicate them." —Neil Ansell, author of Deep Country
"Nate Blakeslee's account of the Lamar Valley wolves, based largely on the two decades of meticulous notes kept by Yellowstone wolf watchers, is the Game of Thrones story of modern western wolves, and unfolds in just as riveting a fashion. It is an absolutely mesmerizing read."—Dan Flores, author of Coyote America: A Natural and Supernatural History
"Wolves are neither gods nor demons. Real wolves are complex beings with personalities, ambitions, careers, and—thanks to us—more than their fair share of tragedy. American Wolf gives us true profiles of wolf lives lived in their actual families. And when humans get involved, the trajectory of their lives forever changes."—Carl Safina, author of Beyond Words: What Animals Think and Feel
"In an extraordinary feat of reportage, Nate Blakeslee brings us the wild's most storied animal as we've never seen it before. Here is the joyful wolf, the heroic wolf, the desperate wolf, the despairing wolf—the wolf as an individual as fully realized as its human allies and enemies. Written with heart, but not sentimentality, American Wolf is nothing less than Shakespearean tragedy played out against the backdrop of our troubled relationship with nature."—J.B. MacKinnon, author of The Once and Future World
PRAISE FROM BOOKSELLERS
"I grabbed American Wolf off of our ARC shelf here at Book Soup initially because of the sexy cover, and after reading it I am very glad I did. I rarely crack open non-fiction these days (not because of disinterest but merely because there are so many fiction books on my reading list), but the topic matter of this was one that particularly interested me as a former biology major. The depth of the journalism kept my mind fascinated while the poetic structure of the sentences kept my heart in it. I fully expected to learn something from this read, but I certainly didn't expect that the story of one wolf could grip at me in such a way as it did." —Molly Ash, Book Soup
"A heartbreaking, important book for the times, American Wolf reads with the propulsive force of a novel. Ultimately a dissection of our troubled relationship with the "wild", it is a mesmerizing tale of the West told through the story of one of the most iconic and unlikely American protagonists in recent history. Best read in a desert or around a campfire." —Halley Parry, Parnassus Books
"I loved the book, it was fascinating!  As an animal lover and someone who is a little bit familiar with Yellowstone and other areas mentioned in the book, I had no idea about any of these stories.  The author is a great writer and he did an impressive job of researching American Wolf and writing about what wolves are really like in prose for anyone – not too technical. I enjoyed reading about the different packs, the wolf-lovers vs the wolf haters and how the reintroduction of wolves into Yellowstone was so controversial. For anyone who is curious about wolves, this book is for you." —Margot Farris, Pages: A Bookstore in Manhattan Beach
"It was such a wonderfully multi-faceted look at the Wolf Project and all the people involved to make it happen (or stop it from continuing) and I immediately wanted to book a trip out to Yellowstone to try and see the existing packs in person." —Catherine Bock, Parnassus Books
"American Wolf uncovers the true legacy of the american wolf's survival after reintroducing them into the Rockies in the wake of becoming nearly extinct in the 1920's. The book focuses on renowned wolf, Six-O, who's unlike any female wolf Yellowstone park ranger, Rick McIntyre, has ever seen. Many of Six-O's challenges for survival are directly linked to the larger issue between those who are against the reintroduction of wolves and those who see wolves as an integral part of our ecosystem. Whether you are for or against reintroducing wolves into our world, Nate Blakeslee's American Wolf is an essential read for anyone interested in a fascinating piece of American history and an important issue that continues to plague the west."—Stephanie Coleman, Tattered Cover Book Store
"In over 20 years of following the reintroduction of wolves to Yellowstone National Park, I've not read a better book on the subject than American Wolf. And I'm pretty sure that the epic story has never been told like this. There is, of course, the unfolding of the audacious, groundbreaking project, which takes place under the Endangered Species Act (signed into law by Republican President Richard Nixon). We get to know some of the essential human figures, particularly dedicated, obsessed ranger/biologist Rick McIntyre. But author Nate Blakeslee also puts us in the paw prints of one of the best-documented wolf packs to arise from those efforts. The wolves which denned in the Lamar Valley were led by a remarkable matriarch that the New York Times eventually called, "the most famous wolf in the world." At the time, however, to both biologists and those who returned to Yellowstone again and again to observe the Lamar Valley pack, she was known simply as 0-Six. What those visitors observed and came to identify with were the remarkably familiar behaviors of a wolf who established, nurtured, and defended her extended family. At times the extensively researched narrative of life among the wolves reads like the kind of furry "Game of Thrones" with it's rise of dominant personalities and clashes of clans. Any non-fiction book about wolves contains equal parts real-life tragedy and triumph, and wildlife advocates will find some of it heartbreaking to read. But the fact that the story can be told at all is the ultimate victory for wolves, and for Yellowstone itself. An "American Serengeti" has been restored, Blakeslee demonstrates, by the rightful return of grey wolves to the landscape, and an unexpected cascade of beneficial environmental consequences." —Clint McKnight, BookPeople
"Nate Blakeslee tells the story of the reintroduction of wolves to Yellowstone Park after hunted and cleared from the park back in the early part of last century. We really get an idea of how wolf packs work, hunt and interact from within; and how they carefully guard their areas from other wolf packs. Nate also introduces us to the wolf watchers, who wake early, patiently wait through long boring stretches of time to catch wolves being wolves. When Nate introduces the hunters, you will argue with yourself on whether government, and the groups that are petitioning them, are correct in starting to allow hunting for wolves. It makes no sense after you read this brilliant book about O-Six and her pack. She was a fearless Alpha that formed and led her own pack at Yellowstone and was killed–for what? The rationalization made is quite ridiculous by the hunter in this book. Read the book, it will sharpen your view on the natural world and the equilibrium that occurs there without human interference." —Jason Kennedy, Boswell Books
AWARDS & ACCOLADES FOR NATE BLAKESLEE'S TULIA
J. Anthony Lukas Book Prize (Tulia)
New York Times Notable Book 2005 (Tulia)
Pen/Martha Albrand Award Finalist (Tulia)
Texas Institute of Letters Best Book of Nonfiction Award (Tulia)
Hugh Hefner First Amendment Award, 2004 (for Tulia reporting)
Soros Justice Media Fellow, 2003 (Major fellowship to support writing Tulia)
Finalist, Livingston Awards for Young Journalists, 2002 (for drug war reporting)
Finalist, National Magazine Awards, 2001 (for Tulia story in Texas Observer)

Before men ruled the Earth, there were wolves. Once abundant in North America, these majestic creatures were hunted to near extinction by the 1920s. But in recent decades, conservationists have brought wolves back to the Rockies, igniting a battle over the very soul of the West. Award-winning author Nate Blakeslee tells the gripping story of one of these wolves, a charismatic alpha female named O-Six, in his poignant book AMERICAN WOLF: A True Story of Survival and Obsession in the West (Crown; on sale October 17, 2017). Days after Crown acquired the book, Leonardo DiCaprio's Appian Way Productions picked up the rights, with Scott Cooper (Black Mass) set to direct.
More than four million people visit Yellowstone each year, and wolves are one of the main attractions. Wolf advocates would like to see them remain on the endangered species list; opponents, especially professional hunting guides (whose clients compete with wolves for the elk they both prize) and cattle ranchers (who have lost livestock to wolves), would like to see a wolf-hunting season so that their numbers can be reduced. AMERICAN WOLF is about these opposing forces, told through the lens of the life of one wolf, O-Six, whose own story became entangled in the political strife around her.
O-Six can arguably be called one of the most famous wild animals in our country. She was one of the most visible wolves in Yellowstone at a time when wolf-watching became a common pastime in the park. Beloved by wolf-watchers, particularly Yellowstone park ranger Rick McIntyre and former schoolteacher Laurie Lyman, both featured in the book, O-Six becomes something of a social media star, with followers around the world. But as she raises her pups and protects her pack, O-Six is challenged on all fronts: by hunters and their professional guides; by cattle ranchers who are losing livestock and have the ear of politicians; and by other Yellowstone wolves who challenge her dominance of the stunningly beautiful Lamar Valley in the park's mountainous Northern Range.
Nate Blakeslee became fascinated with wolves in the winter of 2008, after taking a wolf-watching class in Yellowstone. This is where he saw wolves in the wild for the first time. Drawing on interviews with McIntyre, and Lyman's extensive wolf-watching diary (over 800,000 words), Blakeslee has re-created the true life story of a wild animal in unprecedented detail.
Fans of Helen Macdonald's H Is for Hawk, John Vaillant's The Tiger, Jon Krakauer's Into the Wild, and anyone else who loves intimate, true stories of nature, obsession, and survival will be drawn to this riveting multigenerational wolf saga that tells a larger story about the clash of values in the West—and the nation as a whole.
About the Author: Nate Blakeslee is a writer-at-large for Texas Monthly. His first book, Tulia, was a finalist for the PEN/Martha Albrand Award and won the J. Anthony Lukas Book Prize, the Texas Institute of Letters nonfiction award, and was named a New York Times Notable Book of 2005. The Washington Post called it one of the most important books about wrongful convictions ever written. He lives in Austin, Texas, with his family.
Related Posts:
You Might Also Like