Press Releases
American Heart Association Healthy Slow Cooker Cookbook, 2nd Edition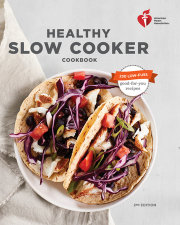 American Heart Association
Imprint: Harmony Books
On sale: October 23, 2018
Price: $19.99
Pages: 320
ISBN: 9780553448047
Contact:
Molly Breitbart
212.782.9164
mbreitbart@prh.com
A revised and updated second edition of the American Heart Association's beloved, bestselling Healthy Slow Cooker Cookbook, now with 30 new recipes and full-color throughout.
The versatile slow cooker is America's favorite kitchen appliance—and it can help support a healthy diet! The American Heart Association Slow Cooker Cookbook, 2nd Edition, (Harmony Books, On Sale October 23, 2018; $19.99; Trade Paperback) is back with brand-new recipes that utilize your slow cooker and nourish you.
In this updated second edition, the cookbook you know and love has been revised to meet the current American Heart Association dietary guidelines. This comprehensive guide has been refreshed with recipes for delicious dishes like Chicken Pho, Pad Thai with Chicken, Sweet Potato Chili and Beef Vindaloo. These 230 nutritious and satisfying recipes are sure to delight with their variety and depth of flavor, unlike restrictive fad diets.
♥ PERFECT FOR THE MODERN PALETTE: From appetizers to desserts, the American Heart Association has compiled a blend of classic family favorites, vegetarian options and global flavors, using popular ingredients that guarantee to satisfy contemporary cravings.
♥ NOW IN FULL-COLOR: We eat with our eyes—feast yours on 40 never-before-seen, full-color photographs.
♥ FROM THE TRUSTED AUTHORITY ON HEART HEALTH: The American Heart Association, the world's leading voluntary health organization devoted to a world of longer, healthier lives, has sold more than four million books. In this modernized edition, the American Heart Association has incorporated information on the health benefits of slow cooking, showing readers exactly how a slow cooker can help them eat well.
Under the spell of the slow cooker's low heat, lean meats, whole grains, legumes, vegetables and fruits transform into succulent meals. With the American Heart Association Healthy Slow Cooker Cookbook, 2nd Edition, you'll learn how much your slow cooker can do for you while you're enjoying a healthy lifestyle.
ABOUT THE AMERICAN HEART ASSOCIATION
The American Heart Association is a leading force for a world of longer, healthier lives. With nearly a century of lifesaving work, the Dallas-based association is dedicated to ensuring equitable health for all. We are a trustworthy source empowering people to improve their heart health, brain health and well-being. We collaborate with numerous organizations and millions of volunteers to fund innovative research, advocate for stronger public health policies, and share lifesaving resources and information. Our bestselling library of cookbooks includes Instant & Healthy; The New American Heart Association Cookbook, 9th Edition; Grill It, Braise It, Broil It; Go Fresh; Healthy Fats, Low-Cholesterol Cookbook, 5th Edition; and Low-Salt Cookbook, 4th Edition. Connect with us on heart.org, Facebook, Twitter or by calling 1-800-AHA-USA1.
Related Posts: