Press Releases
AMERICAN COOKIE
The Snaps, Drops, Jumbles, Tea Cakes, Bars & Brownies That We Have Loved for Generations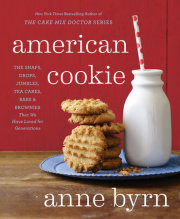 Anne Byrn
Imprint: Rodale
On sale: August 21, 2018
Price: $24.99
Pages: 336
ISBN: 9781623365455
Contact:
Kathryn Santora
212-572-2722
ksantora@penguinrandomhouse.com
From the beloved author of the bestselling Cake Mix Doctor series and American Cake comes a delicious tour of America's favorite treats, cookies, and candies.
"No matter how much you know about America's favorite little sweets, you'll learn so much more from Anne Byrn's new book. Every recipe comes with a story as delicious as the small bite it describes. And best of all, every small bite begs to be baked."
―Dorie Greenspan, James Beard Award–winning author of Dorie's Cookies
"Anne Byrn unearths rare and prized recipes for addictive, handheld sweet treats that tell a fascinating story about our nation."
―Matt Lee and Ted Lee, authors of The Lee Bros. Charleston Kitchen
"Anne Byrn has not only given us a hundred reasons to bake for ourselves and others, but she has also curated a collection of histories as rich and delicious as the treats themselves."
―Kelly Fields, James Beard Award nominee and chef-owner of Willa Jean
With American Cake, ANNE BYRN, New York Times bestselling author and former food editor, took home bakers on a delicious tour throughout history of America's cakes. Now in her new book AMERICAN COOKIE: The Snaps, Drops, Jumble, Tea Cakes, Bars & Brownies That We Have Loved for Generations (On Sale August 21, 2018; $24.99; Rodale Books), Anne is delving into the smaller bites, serving a rich historical background to complement each scrumptious recipe. Byrn reinforces the notion that the small cakes, cookies, and treats we love are more than just baked goods; they are representations of memorable times gone by.
AMERICAN COOKIE isn't just an assorted collection of cherished recipes—it's a look at the diverse array of history that has shaped the heart of American desserts. Each of the book's 100 recipes for bite-size treats tells a big story, and each speaks volumes about the growth and changes in America at the time the recipes first appeared. AMERICAN COOKIE narrates the country's progress while focusing on the American kitchen, and Byrn whips up a multisensory and incredibly detailed historical experience alongside every recipe.
With AMERICAN COOKIE, uncover:
The importance of the cookie jar, through the eyes of Pulitzer Prize–winning author Marjorie Kinnan Rawlings.
The origins of American favorites, such as the chocolate chip (from the Toll House Inn in Whitman, MA); the Oreo (Nabisco's copycat cookie); the vanilla wafer (first commercialized in 1929); the Fig Newton (a mass-produced version of an Italian favorite); Girl Scout cookies (first sold as a fund-raiser in Oklahoma in 1917); and Pepperidge Farm Milano (both tasty and practical—the chocolate did not melt during transport thanks to the buttery wafers).
Why brownies were not originally heavy with chocolate—they were a light, portable cake, and some versions contained no chocolate at all (specifically Fannie Farmer's 1896 recipe—they were brown from molasses and nuts!).
That the beloved New York black-and-white cookie—while famous in Jewish bakeries—actually has German roots.
With AMERICAN COOKIE, readers will learn not only how to make dozens of the country's most beloved bite-size desserts, but will also discover the surprising journey behind each recipe. In AMERICAN COOKIE find:
SNICKERDOODLES: A cherished American cookie, snickerdoodles were first created in 1891 when Cornelia Campbell Bedford shared her recipe for the cinnamon-dusted sugar cookies. Bedford, a New York City cooking teacher and newspaper columnist, had been developing recipes for the Cleveland Baking Powder Company, and her recipe was the talk of newspaper columns for a whole year.
FIG NEWTONS: Though an American grocery-store staple, these cakelike cookies with fig filling originated far off our shores—the Italians bake fig cookies around Christmastime, and descendants living in America have now carried on this tradition. These cookies have been popularized in America as Nabisco's Fig Newtons, which were created in 1891 and named after Newton, Massachusetts, where the bakery that made them was located.
WHOOPIE PIES: These goodies, a sandwich of two chocolate cakes and marshmallow crème filling, can be found in most pantries in the American Northeast—Maine residents count the treat as their "state snack," and annual whoopie pie festivals take place in both Maine and Pennsylvania. But there are differing stories as to how the name of this treat came about: Is it named after the 1928 hit song "Makin' Whoopee!" or did it originate three years prior when a Maine bakery advertised their chocolate whoopie pies?
Early colonists brought over sugar cookies, benne wafers came from Africa, and the iconic chocolate- chip cookie was born at the Toll House Inn in Whitman, Massachusetts—there is so much more to our country's most treasured and tasty treats than we think we know. Each of AMERICAN COOKIE's 100 recipes will have readers thinking harder about where their favorite desserts come from, and how their own family recipes fit into America's broad history of baking.
Extensively researched and lovingly crafted, AMERICAN COOKIE is an ode to the bite-size sweets our nation has enjoyed for generations because our favorite cookies, cakes, and pies are more than just baked goods—they're representations of different times in both American history and our own lives as well.
###
About the Author:
Anne Byrn is the bestselling author of American Cake and the Cake Mix Doctor cookbook series. Formerly a food editor at the Atlanta Journal-Constitution and a graduate of the École de Cuisine La Varenne in Paris, Byrn lives with her family in Nashville, Tennessee.
AMERICAN COOKIE
The Snaps, Drops, Jumbles, Tea Cakes, Bars & Brownies That We Have Loved for Generations
By Anne Byrn
Rodale Books • On Sale August 21, 2018
$24.99 • ISBN: 978-1-62336-545-5
Also available as an eBook
Related Posts: