Press Releases
ALWAYS LOOK ON THE BRIGHT SIDE OF LIFE
A Sortabiography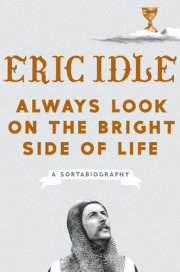 Eric Idle
Imprint: Crown Archetype
On sale: October 2, 2018
Price: $27.00
Pages: 304
ISBN: 9781984822581
Contact:
Ellen Folan
212.782.8944
efolan@penguinrandomhouse.com
From the ingenious comic performer, founding member of Monty Python, and creator of Spamalot comes an absurdly funny memoir of unparalleled wit and heartfelt candor.

"A gentle, sane man has lived a turbulent, crazy life and he's written a gorgeous book about it. Eric Idle joyously recounts his existence in these pages. Did I say 'joyously'? I meant 'ruefully.'"
—Patton Oswalt

"On the last day, when the last human beings look out at the blackened cinders of their world, I can only hope that one of them will sing 'Some things in life are bad, they can really make you mad,' and 'Always Look on the Bright Side of Life' will ring out as humanity's final words. I loved this biography of a song and the man who made it, and the picture he paints of his life, his friends, his passions, five Pythons, and a Beatle."
—Neil Gaiman
"If I could go back in time and observe any comedian's journey, I think it would be a terrible waste of time travel. That said, I'd want to see just how Eric Idle and a few friends changed comedy forever. This is the book I have been waiting for most of my life."
—Conan O'Brien
"This tell-all from my comedy hero Eric Idle is brilliant, hilarious, touching, enlightening, filled with swashbuckling adventure, edge-of-your-seat suspense, and heart-pounding romance; and contains several typos and one inaccurate fact about the Spanish-American War. I expected more out of Mr. Idle's proofreading skills, quite frankly."
—Paul Feig
"I read Always Look on the Bright Side of Life from cover to cover. My next mission is to read what's between the covers. It's a joy to read his fully transparent personal stories of what got him to the present from birth. Any Monty Python lover or lover of honesty and the crafting of a hilarious comedian and musical genius will love this book. And love Eric as I do. Not to spoil-alert, but his stating that 'Laughter is still the best revenge' sums it up. Read every word of this book or I will hunt you down and read it to you. And you don't want me in your house."
—Bob Saget
A legend in his own lunchtime, and the author of many books, some not half bad, some not even a quarter bad, Eric Idle has finally entered his anecdotage with ALWAYS LOOK ON THE BRIGHT SIDE OF LIFE: A Sortabiography (Crown Archetype, October 2, 2018, $27.00), the last word in Python memoirs. "Hopefully," says Eric, noting he is the last of the legendary group to tell his story.
Best known for his unforgettable roles in Monty Python, from the Flying Circus to The Meaning of Life, Idle is finally reflecting on the meaning of his own life and taking readers on a remarkable, absurdly funny journey from his childhood spent in a charity boarding school through to his successful career in radio, comedy, television, theater, and film. Coming of age as a writer and comedian during the sixties and seventies, Idle stumbled into the crossroads of the cultural revolution and found himself rubbing shoulders with the likes of George Harrison, David Bowie, and others who became lifelong friends.
With reminiscences sprinkled throughout that involve such close friends and luminaries as Mick Jagger, Steve Martin, Paul Simon, and Mike Nichols—let alone the Pythons themselves—Idle captures a time of tremendous creative output with equal hilarity and heart. In Always Look on the Bright Side of Life, named after the song he wrote for Life of Brian that has since become the number one song played at funerals in the UK, Eric shares the highlights of his life and career with the offbeat humor that has delighted audiences for five decades.
2019 marks the fiftieth anniversary of the Pythons, and Idle is anticipating the occasion with this laugh-out-loud romp, chock-full of behind-the-scenes stories from a high-flying life that features everyone from Princess Leia to the Queen. For instance:
* Even the most devout Python fan might not know that the troupe originally wanted to call their show Gwen Dibley's Flying Circus to surprise a little old lady in Suffolk who was an acquaintance of Michael Palin. Ultimately, John Cleese suggested Python and Idle suggested Monty, after a chap with a mustache and bow tie in his local pub.
*In fact, Cleese and Idle were both excellent with titles. Idle paid Cleese one pound for coming up with the title for his BBC show, Rutland Weekend Television. And for Life of Brian, Idle originally quipped to a reporter that it would be called Jesus Christ: Lust for Glory.
*Idle recounts many wonderful stories about his dear friend Robin Williams: "I have never seen a funnier man. It's as if Einstein suddenly decided, 'F**k it, I'll do stand-up.'"
*He also includes a case of mistaken identity: He once received a Tony invitation informing him of his nomination for Best Female Performer. He wrote back to say it was the greatest honor of his career considering he'd never been on Broadway and isn't female, but would happily wear a frock to the ceremony. Turns out it was intended for Chita Rivera.
*Idle has already decided on the epitaph for his tombstone: "Eric Idle / See Google."
Highly entertaining and as witty and amusing as it is heartfelt and thoughtful, ALWAYS LOOK ON THE BRIGHT SIDE OF LIFE holds the wisdom and wisecracking that have endeared Idle to the world since his meteoric rise from bare-budget, cult classic cinema to the holy grail standard of comedy.
###
ABOUT THE AUTHOR
ERIC IDLE is a comedian, actor, author, and singer-songwriter who found immediate fame on television with the sketch-comedy show Monty Python's Flying Circus. Following its success, the group began making films that include Monty Python and the Holy Grail (1975), Life of Brian (1979), and The Meaning of Life (1983). Eric wrote, directed, and created The Rutles, the world's first-ever mockumentary, as well as the Tony Award–winning musical Spamalot (2005). He lives in Los Angeles.
Related Posts:
You Might Also Like