Press Releases
Although Of Course You End Up Becoming Yourself: A Road Trip with David Foster Wallace, by David Lipsky
The New York Times Bestseller, Now a Major Motion Picture, The End of the Tour Distributed by A24 and Directed by James Ponsoldt, Starring Jason Segel and Jesse Eisenberg *In Theaters NY & LA July 31, Nationwide August 2015*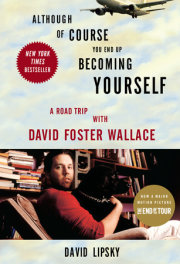 David Lipsky
Imprint: Broadway Books
On sale: April 13, 2010
Price: $16.99
Pages: 352
ISBN: 9780307592439
Contact:
Rachel Rokicki
212-782-8455
rrokicki@penguinrandomhouse.com
"Lipsky's transcript of their brilliant conversations reads like a two-man Tom Stoppard play or a four-handed duet scored for typewriter." —Lev Grossman, Time
"Exhilarating…All that's left now are the words on the page, with the voices they conjure of two writers talking, talking, talking as they drive through the night." —Laura Miller, Salon
"Crushingly poignant…It's impossible for anyone who ever fell in love with Wallace's prose not to read Lipsky's account looking for clues… The rapport that he and Wallace built during the course of the road trip is both endearing and fascinating. At the end, it feels like you've listened to two good friends talk about life, about literature, about all of their mutual loves…his fans and his readers at least have this: a startlingly sad yet deeply funny postscript to the career of one of the most interesting American writers of all time." —Michael Schaub, National Public Radio
"The reader goes inside the cars, airports, and big-portioned Midwestern restaurants with the two men and, ultimately, inside Wallace's head."  —Stephen Kurtz, The Wall Street Journal
 "Insightful… Lipsky seems at ease with Foster Wallace, despite being awed by his fame and talent. More importantly, Foster Wallace seems relatively at ease with Lipsky. The two men drive through the raw and icy Midwest, all the while trying to make sense of art, politics, writing, and what it means to be alive." —Lee Ellis, The New Yorker
---
David Lipsky's ALTHOUGH OF COURSE YOU END UP BECOMING YOURSELF: A Road Trip with David Foster Wallace (Broadway Books) published in 2010, was a critically acclaimed New York Times bestseller and an NPR Best Book of the year. It was written following Wallace's 2008 suicide and began as a Rolling Stone article for which Lipsky received the National Magazine Award.
This summer, THE END OF THE TOUR, based on Lipsky's memoir, will debut on the big screen as a major motion picture distributed by A24 Films. Directed by Sundance veteran James Ponsoldt and from Pulitzer Prize-winner Donald Margulies' insightful and heartbreaking screenplay, the film stars Jesse Eisenberg, Jason Segel, Anna Chlumsky, Joan Cusack, Mamie Gummer, and Mickey Sumner. THE END OF THE TOUR will debut in New York and Los Angeles on July 31, with additional markets to follow, but first readers can experience Lipsky's work in paperback.
In ALTHOUGH OF COURSE YOU END UP BECOMING YOURSELF Lipsky (played by Jessie Eisenberg) tells the story of his five-day journey with acclaimed novelist David Foster Wallace (played by Jason Segel), which took place right after the 1996 publication of Wallace's groundbreaking novel, Infinite Jest. In Lipsky's view, Wallace was the best young writer in America and Wallace's pieces for Harper's magazine were, according to Lipsky, "like hearing for the first time the brain voice of everybody I knew: Here was how we all talked, experienced, thought. It was like smelling the damp in the air, seeing the first flash from a storm a mile away. You knew something gigantic was coming."
Rolling Stone had sent Lipsky to join Wallace on his book tour's last leg. Over the course of five days, an intense and tenuous relationship develops between journalist and subject. The two men size each other up. Lipsky literally moves into Wallace's guest bedroom and their conversations begin.They talk about childhood, family, friends, writing, triumphs, collapses, and dogs. They churn through the Planes, Trains and Automobiles obstacles—iced–over airports, improvisational drivers—then book signings, NPR, a return flight, a drive home. And when the trip is done, Wallace has narrated the story of his life.
Wallace had a concern with being written about: "You're gonna be able to shape this essentially how you want. And that to me is extremely disturbing." This is a life story that Wallace shapes himself: trying to knit together ideas of who you should be with what other people expect. And it's a picture of the writing life. The tricky, optimistic years (the fingers-crossed years), the performance anxieties ("it's the only thing I've gotten food pellets from the universe for"), the finding ways to live and work, how to love other people inside that ("if you dedicate yourself to anything, one facet of that is it makes you very, very selfish"), the circuit when you do succeed, what you lose and gain as you become what you always hoped to become. It's also a remarkable reading experience: five days in extraordinary company, a man taking great pains to live humanly, humanely, and honestly.
An indelible portrait of one of America's great writers, ALTHOUGH OF COURSE YOU END UP BECOMING YOURSELF: A Road Trip with David Foster Wallace is by turns moving, comic, and inspiring.It's a story about any two young people—the points they left, the points they're returning to. And it's the story of how David Foster Wallace became David Foster Wallace.
ABOUT THE AUTHOR
DAVID LIPSKY is a contributing editor at Rolling Stone. His fiction and nonfiction have appeared in The New Yorker, Harper's, The Best American Short Stories, The Best American Magazine Writing, the New York Times, the New York Times Book Review, and many other publications. He contributes as an essayist to NPR's All Things Considered and is the recipient of a Lambert Fellowship, a Hoyns Fellowship, and a Media Award from GLAAD. He received a National Magazine Award for writing about Mr. Wallace, and is the author of four books, including the novel The Art Fair, and the New York Times bestseller Absolutely American, which was a Time magazine and an Amazon Best Book of the Year.  He lives in New York and teaches at New York University.
---
ADDITIONAL PRAISE FOR ALTHOUGH OF COURSE YOU END UP BECOMING YOURSELF
 "Compelling…The conversations are far-reaching, insightful, very funny, profound, surprising and awfully human…a profoundly curious and alive personality…Ultimately, the only person who can talk about David Foster Wallace is, apparently, David Foster Wallace." —Menachem Kaiser, The Atlantic
"Lipsky is not telling us about Wallace's life: He is showing Wallace living his life…One thing is certain: If you didn't already love Wallace, this book will make you love him…Wallace's humor, his pathos, his brilliant delivery—his tendency to explore the experience of living even as he's living it—make this book sing. If art is a way of caring for others, Wallace cares for us through the novels, short stories, and essays he left behind. And Lipsky, in the wake of Wallace's death, gives us a narrative that does the same." —Alicia Rouverol, The Christian Science Monitor
 "For readers unfamiliar with the sometimes intimidating Wallace oeuvre, Lipsky has provided a conversational entry point into the writer's thought process. It's odd to think that a book about Wallace could serve both the newbies and the hard-cores, but here it is…You get the feeling that Wallace himself might have given Lipsky an award for being a conversationalist…we have the pleasure of reading two sharp writers who can spar good-naturedly with one another… What we have here is Wallace's voice." —Seth Colter Walls, Newsweek
"Required reading… Lipsky not only got the local color of a book tour. Wallace, who committed suicide in 2008, let loose with his life story in the week-long conversation." —Billy Heller, New York Post
"One thing that the book makes clear is that Wallace's vigor and awe-inspiring writing was, in some ways, part of a deeply intricate personal effort to beat death…The book has some elements of good fiction: blind spots, character development, and a powerful narrative arc. By the end, no amount of sadness can stand in the way of this author's personality, humor, and awe-inspiring linguistic command. His commentary reveals how much he lived the themes of his writing; all of his ideas about addiction, entertainment, and loneliness were bouncing around in his head relentlessly. Most of all, this book captures  Wallace's mental energy, what his ex-girlfriend Mary Karr calls 'wattage,' which remains undimmed." —Michael Miller, Time Out
"It's a road picture, a love story, a contest: two talented, brilliant young men with literary ambitions, and their struggle to understand one another …I can't tell you how much fun this book is; amazingly fun, exhilarating… You wish yourself into the back seat as you read, come up with your own contributions and quarrels…the wry commentary of the now-mature and very gifted Lipsky, is original, and intoxicatingly intimate." —Maria Bustillos, The Awl
"A gift… The reader, hanging out with Wallace vicariously, gets the sense of jogging along with a world-class sprinter… As Lipsky observes, suicide 'has an event gravity: Eventually, every memory and impression gets tugged in its direction.' Wallace's writing illuminates the painful truth that life can be unbearable. But we owe it to him not to let those passages eclipse the vitality that made his prose, and his readers, come alive." —Michael O'Donnell, Washington Monthly
"Wallace was the next great voice of a young generation. But he wasn't a dweeb-child shut-in hiding with books. He was a big handsome dude who played football and tennis, chewed tobacco, cussed, watching action movies and ticking off references to Hobbes and Dostoyevsky while mixing in Stephen King and Alanis Morisette… A trip into the mind of a writer who owned a dazzling style and a prescient view of modern culture." —Mike Kilen, The Des Moines Register
"A hauntingly beautiful portrait of Wallace as a young artist, a raw and honest account of a writer struggling with what it means to have all of his dearest dreams come true…As readers, we're given unfettered access to Wallace's incredible wit… Although haunted by it, this is not a book about his death; it's a book about his life. Lipsky has given us a true gem: Wallace in his own words, in a voice that remains vibrant, hopeful, and frank even after its speaker has been silenced. We all may know how it ends, but Although Of Course You End Up Becoming Yourself takes us back to where it all began." —Stephanie Hlywak, Flavorwire
 "If you're a writer, or even if you just believe that art can nourish us somehow, you will read this book and feel changed. The odd thing is, you feel hopeful, too." —Lorian Long, Bookslut 
"Totally fascinating." —Sam Anderson, New York
"Full of everyman details about a writer who often seemed larger than life… Throughout the book, astonishingly profound things are said in airport parking lots and rental-car cockpits… As Lipsky writes, the author's singular achievement, especially in his non-fiction, was capturing 'everybody's brain voice'; Wallace's writing sounds the way we think, or at least the way we like to think we think…We may never have a better record of what it sounded like to hear Wallace talk… Rolling Stone sent the right guy." —Zach Baron, Bookforum
"Lipsky has given us what we urgently need in the wake of Wallace's suicide…One feels a genuine love at the heart of Lipsky's literary photograph." —Tye Pemberton, The Rumpus 
"A victory, albeit a brief one, over time… Heartfelt and devastating." —David Herring, Journal of American Studies
"Achingly and beautifully human." —Eden Andres, Oxford American
"Lovely." —Sam Sacks, Wall Street Journal
"Among the repetitions, ellipses, and fumbling that make Wallace's patter so compellingly real are observations as elegant and insightful as his essays. Prescient, funny, earnest, and honest, this lost conversation is far from an opportunistic piece of literary ephemera, but a candid and fascinating glimpse into a uniquely brilliant and very troubled writer." —Publishers Weekly (starred review) 
"Lipsky's recordings of five days' worth of the writer's brainy and passionate riffing on the nature of mind, the purpose of literature, and the pitfalls of both academia and entertainment are incredibly poignant. Lipsky vividly and incisively sets the before-and-after scenes for this revelatory oral history, in which Wallace is at once candid and cautious, funny and flinty, spellbinding and erudite as he articulates remarkably complex insights into depression, fiction that captures the 'cognitive texture' of our time, and fame's double edge." —Donna Seaman, Booklist
"A glimpse into the mind of one of the great literary masters of the end of the 20th century…What shines through even more is his deep passion for writing and ideas and his kind, gentle nature…Many fans of Wallace's writing come to think of him as a friend—by the time they have finished Lipsky's moving book, they will undoubtedly feel that even more strongly." —Library Journal
Related Posts: