Press Releases
All Work, No Pay by Lauren Berger
Finding an Internship, Building Your Resume, Making Connections, and Gaining Job Experience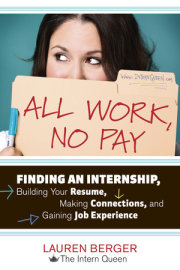 On sale: January 1, 1970
Price: $
ISBN: 9781607741688
Contact:
Nora O'Malley
212-782-8370
nomalley@randomhouse.com
Throughout her college years, Lauren Berger successfully completed fifteen internships for the likes of MTV, FOX, and NBC, learning invaluable lessons to advance her career. Along the way, she also uncovered her calling. Today, she uses this unparalleled insight and expertise plus influential connections with leading companies as founder and CEO of  Intern Queen, Inc. (internqueen.com)—an online internship destination  and listing service that reaches hundreds of thousands of students, parents, and employers each month; and helps students not only land the best internships, but make the most of their experiences. ALL WORK, NO PAY: Finding an Internship, Building Your Resume, Making Connections, and Gaining Job Experience (Ten Speed Press; on sale January 3, 2012) is Berger's ultimate guide for anyone looking to become an intern and get the most out of every internship opportunity.
Studies now show that resumes featuring internships increase a college senior's chances of getting a job offer, and that students with interning experience receive a 30 percent higher starting salary than those without. In ALL WORK, NO PAY, Berger reveals insider secrets to discovering and landing the perfect internship, building transferable skills and connections, and turning internships into job opportunities. She also covers information that every new graduate and job-seeker needs to get ahead, including cutting-edge tips on how to nail phone, Skype, and in-person interviews; use social networking to one's advantage; write effective resumes and cover letters; network like a pro; and discover the best internship opportunities for a career-making difference. Important information about the legalities of unpaid internships and an intern's rights are also addressed.
ALL WORK, NO PAY is an invaluable collection of Lauren Berger's hard-earned knowledge and insider advice. Berger has spoken to thousands of high school and college students at hundreds of colleges, universities, and young professional groups, sharing expertise with students of all ages who are looking for internships to help launch their career. Now, her key tips are available in accessible chapters full of helpful checklists, concrete examples, personal anecdotes, and "Intern Queen Chapter Essentials." ALL WORK, NO PAY is the vital reference missing from college bookshelves and dorm desks and is sure to become a go-to resource for all students seeking rewarding and successful internships.
#          #          #
ABOUT THE AUTHOR:
Lauren Berger, CEO of Intern Queen, Inc. (internqueen.com), was named one of BusinessWeek's "America's Best Young Entrepreneurs 25 and Under; " has been featured in the Wall Street Journal, New York Times, and Washington Post; and has appeared on CBS Sunday Morning, ABC News Now, and more. Berger speaks frequently at campuses and professional groups across the country. She lives in Tocula Lake, California, and is available for interviews.
Related Posts:
You Might Also Like