Press Releases
Alison Wolf's The XX Factor offers an original and provocative look at how millions of highly educated female professionals have impacted—and arguably limited—opportunities for women who are less-traditionally successful
The result is the death of the sisterhood.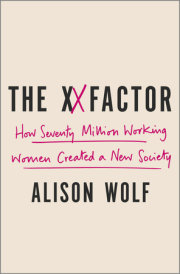 Alison Wolf
Imprint: Crown Publishers
On sale: October 1, 2013
Price: $26.00
Pages: 416
ISBN: 9780307590404
Contact:
Sarah Breivogel
212-572-2722
sbreivogel@randomhouse.com
Select Praise for Alison Wolf and The XX Factor:
"The XX Factor reads like a Guns, Germs, and Steel of women's roles….In short, with The XX Factor Wolf accomplishes a rare feat: She combines real breadth with real depth. No matter how much you think you know about this hotly debated subject, and whether or not you agree with every one of Wolf's ideas, you will come away from her book with new information—some merely amusing, but some foundation-shaking." – New York Times Book Review
"Accessibly written and enlivened with anecdotes and interviews, Wolf's research is thoroughly documented and features uncommonly informative footnotes and helpful graphs….Provocative and vital." –Publishers Weekly, starred review

 "You may disagree with her interpretations of some of the data, but after reading The XX Factor we can no longer talk blithely about what 'women' want and do versus what 'men' want and do. Alison Wolf injects a raft of valuable and often surprising data into the 'having it all' debate and shows convincingly that the advances of professional elite women have wrought enormous social change but have also created deeply different life experiences between elite women and their less-privileged sisters."
–Anne-Marie Slaughter, president, New America Foundation
"Women have made great strides in the workplace, but in The XX Factor Alison Wolf urges us to look not just at the progress we've made but at the distribution of those gains and the many women being left behind. The XX Factor shows us how far we've come, but also, more important, how far we've yet to go." –Arianna Huffington, founder of the Huffington Post

"Powerful, brilliantly argued, provocative, and original—an outstanding book from a compelling thinker." –Tim Harford, author of The Undercover Economist and Adapt

"This multidimensional and well-researched book shows the enormous advances in the integration of women into the workforce, the benefits that have been received but also the challenges that remain before women will  have true equality in the labor market.  Compelling, surprising, and sometimes frustrating, Wolf's an agile, able, and learned  guide to this important subject."
–Joseph E. Stiglitz, 2001 Nobel Laureate in Economics
"Wolf has written an exhaustive, intelligent, thoughtful, and at times provocative and idiosyncratic analysis of what it is to be an elite woman. By laying out the choices that women are faced with and the consequences of their actions, Wolf is ensuring that we do not have to walk blindfolded into the future." 
–Financial Times
"A crucial bible for anyone wanting to check up on anything about contemporary woman."
–The Guardian 
We have heard much in the media—most recently from Facebook's COO Sheryl Sandberg—about what it takes for women to make their way to the top of their professions. And many have. Today there are close to 70 million highly educated, high-earning women around the world who are, for the first time in history, spending more time at the boardroom table than at the kitchen table. They are working longer hours, marrying and starting families later, or, if they so wish, focusing on their careers to the exclusion of marriage, and they are earning on a par with men. But that is just some of them. And as they draw away from the pack, they leave a very different female world behind.
Until just a few generations ago, the experiences of all women, regardless of wealth or social class, were dominated by the same pressures and events: you married well or badly, you had children to support you or you didn't. In her new book, THE XX FACTOR: How the Rise of Working Women Has Created A Far Less Equal World (Crown, October 1, 2013), noted English economist and journalist Alison Wolf, who is also director of the public policy and management program at King's College London, argues that today's elite, highly-educated women have become a class apart, living separate lives from their home-focused sisters, the other 85 percent. These highly educated women, whom Wolf calls XX women, have the same work ethic and job choices as men. They partner and marry men like themselves, are overwhelmingly ambitious and goal driven, and have more in common with successful men than with the rest of womankind. In her book, Wolf explores two central questions: why and how have these women, in less than three generations, come so far in closing the wage gap with men; and why haven't these gains expanded to elevate the circumstances of women who don't have a corner office or a voice in boardroom meetings? Calling on a broad range of data to support her argument, Wolf explores unorthodox and surprising findings that are sure to stir debate:
      -The single best predictor of a woman's future workplace success is staying a virgin until college
      -Contrary to popular belief, it's not stay-at-home mothers and fathers who spend the most time with their kids, but families of two married graduate professionals, the same people who work the longest hours
      -The highly publicized belief that "house husbands" prepared to support ambitious women and care for their children are on the rise is wrong: this is actually a statistically tiny phenomenon
      -Highly educated women have fewer children and when they do it occurs later in life. These same women go back to work faster after having children and often remain in the workplace; by contrast, less-educated women are more likely to work part time and drop out of the workforce for longer periods of time
      -Half the world's self-made female billionaires live in China. Developing countries have far more female millionaires than did the West when it was developing—and are set to have more, in absolute terms, within the next twenty years
      -One of the biggest unintended consequences of women's rise in the workplace in the United States and Europe is the shrinking of charity and philanthropy
      -The widespread belief that women work harder than men do is an illusion
      -The idea that women are paid less than men is not true for the highest paid or younger professionals
      -Most elite women marry similarly high-flying men, and the idea that ambitious elite men mostly marry trophy wives, dumping their first wives, is a myth
      -Elite women are less likely to divorce than other women
      -Elite women invest huge and growing amounts in their children's education to help them maintain the lifestyle they've achieved themselves
The XX FACTOR is a revealing and deeply intelligent book that will upend the way we think about how women are living and working today, the challenges that come with the choices they make, and will help further the conversation about women's role in society. 
ABOUT THE AUTHOR: ALISON WOLF is an academic and writer living in London. She is currently the Sir Roy Griffiths Professor of Public Sector Management at King's College, London. She also advises the UK government on education policy.
Related Posts:
You Might Also Like