Press Releases
ALEXANDER HAMILTON'S GUIDE TO LIFE by Jeff Wilser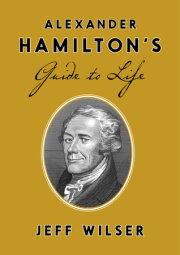 Jeff Wilser
Imprint: Three Rivers Press
On sale: 9/20/16
Price: $17.00
Pages: 336
ISBN: 9780451498090
Contact:
Rebecca Marsh
212-572-2544
rmarsh@prh.com
 An entertaining look at the life and wisdom of Alexander Hamilton, the Founding Father who mastered the arts of war, wealth, wit, and women—long before becoming the subject of the runaway Broadway hit Hamilton: An American Musical
"These days, everyone wants to learn more about founding father Alexander Hamilton. In this lighthearted biography, Jeff Wilser tells Hamilton's extraordinary story in a way that's both historically accurate and extremely entertaining—plus Wilser highlights the lessons that we can all learn from Hamilton's example."
—Gretchen Rubin, New York Times bestselling author of The Happiness Project and Better Than Before
 "Hugely useful for everyone out there who is starting their own country—or just trying to be better at work, love, friendship and family."
—A.J. Jacobs, New York Times bestselling author of The Year of Living Biblically and Drop Dead Healthy
 "Hamilton packed a lot into his short life. Jeff Wilser unpacks it and shows us how to make use of it. Hamilton rode horses and wrote with a quill pen, but he grappled with work, money, love, guts, and doing the right thing. Read, enjoy, learn."
—Richard Brookhiser, author of Alexander Hamilton, American
"Author Jeff Wilser has done his homework; he gets the real Alexander Hamilton, then he reveals the gems that guided his extraordinary life. Filled with levity and humor, and packaged in a concise, enjoyable format, the guide is very relevant to today's world and challenges. If you are interested in learning what made Hamilton successful, this book is for you… and for those you care about the most."
—Rand Scholet, President and Founder, The Alexander Hamilton Awareness Society
You know the music. But do you know the man? The popular Hamilton musical has reintroduced the world to Alexander Hamilton, but even many of those who have memorized the soundtrack are still fuzzy on what he actually did, why he matters, and how he's still relevant today.
In ALEXANDER HAMILTON'S GUIDE TO LIFE (Three Rivers Press; Hardcover; $17.00; On Sale September 20, 2016), Jeff Wilser unlocks Hamilton's core principles for anyone interested in success, romance, money, and dueling. While it's unlikely that any of us will ever fire a musket at the British, we can all learn something from the way Hamilton led his troops, organized his time, juggled work and family, and angled for a promotion.
Hamilton was a self-starter. Scrappy. Orphaned as a child, he came to America with nothing but a code of honor and a hunger to work. He then went on to help win the Revolutionary War and ratify the Constitution, create the country's financial system, charm New York's most eligible ladies, and land his face on our $10 bill. The ultimate underdog, he combined a reckless, renegade spirit with a much-needed dose of American optimism.
With ALEXANDER HAMILTON'S GUIDE TO LIFE, Jeff Wilser has written an entertaining blend of biography, humor, and advice that offers a fresh take on one of our most fascinating Founding Fathers. Wilser incorporates research from key Hamiltonian scholars such as Ron Chernow, Richard Brookhiser, and Michael E. Newton, as well as current perspectives from the Hamilton family. He even traveled to Hamilton's birthplace in Nevis to trace his footsteps from the very beginning.
In distilling Hamilton's life into fascinating nuggets and clever maxims, Wilser reveals the ultimate dos (and don'ts) for sparking a revolution in your own life, including:
Speak with Authority … Even if You Have None (Career): At age fourteen, while working in a trading shop, Hamilton was put in charge when his boss left town. Despite his youth, he acted like he owned the place, using an assertive voice to demand authority. He wrote to one trader, "I sold all your lumber off immediately … Your mahogany is of the very worst kind." No timidity, no indecisiveness, no signs of backing down. When a man's mahogany isn't up to snuff, you call him on it. And as Hamilton's career tells us, if you talk like a boss, you will soon be the boss.
Seduce with Your Strengths (Romance): Hamilton was an unabashed flirt, and smart enough to play to his strengths of writing and oration. He wrote bold and flattering letters, wooing farmers' daughters and socialites alike, and eventually used those skills to snag the woman who would be his game-changer: his wife, Eliza Schuyler.
Find Time for the Quills and the Bills (Money): The 51 essays that Hamilton penned for The Federalist Papers are some of our nation's most iconic documents. And he wrote them all while also working as a full-time lawyer. Unlike the other Founding Fathers, Hamilton didn't come from money, and he had a wife and son to take care of. So rather than quitting his day job, he would work all day and write all night. His diligence proves that with the right mind-set and the right drive, you can feed your creativity while still paying the bills.
Put the Father in Founding Father (Friends & Family): With his wife, Hamilton had eight children, and despite his busy schedule, he managed to dote on all of them. He taught them French, sang with them, helped with their studies, and bragged about their accomplishments to his friends. Even though his job was important—you know, founding America and all that—he knew that the infant nation was never as important as actual infants.
Being Right Trumps Being Popular (Leadership): If CNN had existed in 1790, every segment would have talking heads saying "Hamilton has gone too far!" or "Ninety percent of Americans disapprove of Treasury Secretary!" But like most good leaders, Hamilton would have known to tune this noise out—he refused to be swayed by public opinion. And on more than one occasion, he lost the popular vote, but history proved his instincts to be right in the end.
Informative, approachable, and fun, ALEXANDER HAMILTON'S GUIDE TO LIFE is an easy-to-digest look at one of the country's most forward-thinking men. Hamilton's advice is both timeless and timely, applicable to men and women alike, and his laundry list of achievements speaks for itself.
But even more remarkable than Hamilton's accomplishments is the way he brought them about. He was clever, fearless, and reckless; his life inspires. And from the time he was a clerk to the day he took a bullet, his maxims rarely wavered: seek the core principles, turn grit into genius, hide nothing, move quick, say what you believe (no matter the cost), value what's right over what's popular, and close with a flourish.
 Find out more at www.jeffwilser.com or follow Jeff Wilser on Twitter @JeffWilser
ABOUT THE AUTHOR
Jeff Wilser is the author of four books, including The Good News About What's Bad for You … The Bad News About What's Good for You, named by Amazon as one of the Best Books of the Month in both nonfiction and humor. His work has appeared in print or online at GQ, Esquire, New York magazine, Glamour, Cosmo, Mental Floss, MTV, and The Huffington Post. He lives in New York.
Praise for ALEXANDER HAMILTON'S GUIDE TO LIFE
 "We raise a glass to Jeff Wilser on Alexander Hamilton's Guide to Life! It is as fun as it is informative. Wilser's writing articulately explains a very complicated man in a funny and relatable way. Whether your interest has been piqued by Hamilton the musical, you've been a Hamilfan for years, or you just want to read something well-written and informative, you won't go wrong with this book."
—Gillian Pensavalle and Bianca Soto of "The Hamilcast: A Hamilton Podcast"
 "Jeff Wilser did not throw away his shot. He has written a remarkably fun and informative account of the brilliant 'bastard' from the Caribbean who created modern America. We still have much to learn from this remarkable founding father, and we owe Wilser a debt of gratitude for translating Hamilton's 'life lessons' into such an insightful and entertaining book."
—Stephen Knott, co-author, Washington and Hamilton: The Alliance That Forged America
"I have long thought that a book was needed to link Hamilton's real-life experiences to present-day situations. In Alexander Hamilton's Guide to Life, Jeff Wilser finally offers just that. Using a 21st century sensibility to bring 18thcentury history to life, Wilser has written a modern-day guide that's both entertaining and effective. I enjoyed this book as a baby boomer and think that Generation X, Y, and Z readers will love it as well."
—Douglas Hamilton, the fifth great-grandson of Alexander Hamilton
"Why see Hamilton when you can be Hamilton? Jeff Wilser's funny, smart take on the best President who was never President covers all the details the musical leaves out. Readers will learn how to "go to war for your promotion," "sprinkle in the charm," "close with a flourish," and other life lessons that prove every bit as useful today as they were 300 years ago."
—Jennifer Wright, author of It Ended Badly and Get Well Soon
"As a history teacher, I find that my students often have a difficult time understanding the Founding Fathers, with their white wigs and passion against a king so far away. But in Jeff Wilser's Alexander Hamilton's Guide to Life I've finally found a way to relate history to my students. It is by far the best book I've ever seen to teach Hamilton, as well as the establishment of our government. Students will learn how Hamilton's thoughts and ideas can be used in their own lives, and for the first time, they actually be able to understand a Founding Father. And they'll enjoy the humor along the way!"
—Jennifer Norato, State Chairman, Community Classroom Committee, New Jersey Daughters of the American Revolution
"I have only participated in three duels myself, none of them fatal, though in the last my left ventricle was grazed. The important thing is honor. This book will teach you about that. And also make you laugh."
—Iris Smyles, author of Iris Has Free Time and Dating Tips for the Unemployed
 "Mesmerizing and hysterically funny. Wilser makes dusty, centuries-old anecdotes about Alexander Hamilton seem as crisp and ready to use as a new $10 bill. I have read Chernow's book and seen Miranda's show (and loved both!), but Wilser's book has its own unique zing. I learned so much and laughed even more. I can't wait to recommend this book to my students (and everyone else I know)!"
—Dolly Chugh, Associate Professor, NYU Stern School of Business, recipient of Stern's 2015 Teaching Excellence Award
 "More than just a biography, Jeff Wilser's Alexander Hamilton's Guide to Life delivers insightful advice, gleaned from Hamilton's words and actions, that each of us can use to improve our personal and professional lives. I highly recommend this delightful book, full of both substance and wit."
—Michael E. Newton, author of Alexander Hamilton: The Formative Years
 "I have not seen Hamilton, the musical. I didn't even know what bill Hamilton was on. And yet I couldn't put this down. Wilser's writing is sharp, tight, and clever. Apparently learning is…fun?"
—Rochelle Bilow, author of The Call of the Farm
Related Posts: