Press Releases
From Actress, Singer, & New York Times Bestselling Author LEA MICHELE — You First
Journal Your Way to Your Best Life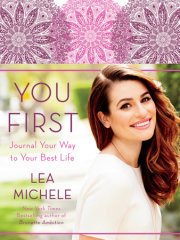 Lea Michele
Imprint: Crown Archetype
On sale: 9/22/15
Price: $17.99
Pages: 240
ISBN: 9780553447316
Contact:
Rebecca Marsh
212-572-2544
rmarsh@penguinrandomhouse.com
New from Lea Michele—actress, singer, and New York Times bestselling author of Brunette Ambition—YOU FIRST is a guided journal all about respecting and understanding what you really want, and then going out to achieve it.
In her New York Times bestselling book Brunette Ambition, actress and singer Lea Michele shared the secrets and stories behind her success, and how she manages to live a balanced and healthy lifestyle despite her hectic schedule. Now in her second book, YOU FIRST: Journal Your Way to Your Best Life (Crown Archetype; $17.99; On Sale September 22, 2015), she will teach readers how they, too, can be their best selves.
In Lea's opinion, keeping a journal and asking yourself the hard questions about what you want out of life is the best way to achieve your dreams. She credits journaling with helping her achieve her goals, and giving her a safe space to dream. In YOU FIRST, she has outlined a series of exercises, prompts, and lists based on her own personal program and designed to inspire, empower, and encourage readers.
Lea writes in YOU FIRST, "By committing your goals to paper—which can admittedly be a very intimidating, and sometimes even embarrassing, thing to do—you are taking a big step toward making them a reality and not just a passing dream. You are also giving them shape and refining how you actually feel—you are creating a record to which you can then be held accountable…My hope is that you will put some boundaries around things you know are important to you, and discover things that are lurking in your subconscious that are important to bring out and priori­tize, too."
Lea's guided journal will address all the topics she wrote about in Brunette Ambition, including fitness, diet, work, school, and relationships, but with all-new material to help readers reach their goals. Peppered between the advice and exercises will be fun personal anecdotes from Lea to motivate and inspire readers to put themselves first and live their best life.
###
About the Author
Lea Michele is a best known for her performance as Rachel Berry on the critically acclaimed, Golden Globe-, Grammy-, and SAG-award-winning Fox television series Glee, as well as Ryan Murphy's newest series, Scream Queens. She is the author of New York Times bestselling health and lifestyle guide, Brunette Ambition, and her chart-topping album Louder debuted at #4 on the Billboard 200. She has starred in four Broadway shows, and has been nominated for an Emmy, a SAG Award, and multiple Golden Globes. She lives in Los Angeles.
Related Posts:
You Might Also Like