Press Releases
The Acid Watcher Diet by Dr. Jonathan Aviv
A 28-Day Reflux Prevention and Healing Program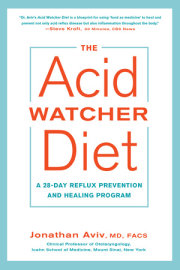 Jonathan Aviv, MD, FACS
Imprint: Harmony Books
On sale: January 24, 2017
Price: $18.00
Pages: 304
ISBN: 9781101905586
Contact:
Maya Lane
212-782-9164
MALane@penguinrandomhouse.com
A groundbreaking 28-day program from world-renowned doctor Jonathan Aviv to reduce acid and inflammation—balancing your body and mind
---
"Dr. Aviv's Acid Watcher Diet is a blueprint for using food as medicine not only to heal and prevent acid reflux disease but to prevent and heal inflammation throughout the body."
Steve Kroft, CBS News, 60 Minutes
Although we often attribute inflammation and acid reflux with the presence of heartburn and indigestion, for many this is not the case. In fact, some of the most common symptoms are actually hoarseness; abdominal bloating; a nagging cough; a consistent sore throat; postnasal drip; the feeling of a lump in the back of your throat; allergies; and shortness of breath. In THE ACID WATCHER DIET: A 28-Day Reflux Prevention and Healing Program (Harmony Books; $18.00; on sale 1/24/17), Dr. Jonathan Aviv, world-renowned doctor and clinical director of the Voice and Swallowing Center of ENT and Allergy Associates, presents the ultimate guide to identifying, resetting, preventing, and healing acid-related maladies such as inflammation and reflux.
Nearly a decade in the making, this 28-day program is part of a nutritionally balanced, two-phase eating plan consisting of macronutrients (proteins, carbs, and fats), micronutrients (vitamins, minerals, and antioxidants), and a high-fiber component that works to neutralize acid and relieve the body's inflammation at its core. Unlike a typical diet, THE ACID WATCHER DIET keeps your blood sugar steady—which in turn prevents cravings while supplying the body with the optimum amount of vitamins and minerals to accelerate repair of acid-damaged tissues and cells.
Based on Dr. Aviv's previous book Killing Me Softly from Inside, THE ACID WATCHER DIET is broken down into three key parts featuring new and in-depth content. These parts in order are:
 – Acid Disruption and Your Diet—an introduction to the dangerous effects of dietary acid damage; its link to long-term serious illness, inflammation, and weight gain; and beginning steps for seeking treatment
– Food and Lifestyle Prescriptions—understanding the healing roles of proteins, carbs, and fats; bridging the fiber gap; developing your pH savvy; and how to establish acid-reduction practices
– The 28-Day Blueprint—28-day healing program that includes a meal planner, recipes, and a fitness plan that will result in healing of acid-induced damage and a reflux-free life
Readers will learn how to use food as medicine by identifying what foods to avoid (to stop the injury) and what foods to eat (to promote healing). A high-intensity interval training "pHitness" plan is introduced as well to further this holistic and mindful approach to how we treat our bodies and what we put in our mouths daily.
Today, more than 60 million Americans suffer from acid-related disorders that are undetected or untreated—and if not caught in time these conditions can lead to long-term health problems, including esophageal cancer. This number is more than the number of people affected by heart disease, diabetes, and celiac disease combined, and proper treatment is often delayed or simply incorrect.
THE ACID WATCHER DIET's groundbreaking program is just what millions of those in need require to reduce acid and balance their bodies and minds for optimal health.
Related Posts:
You Might Also Like