Press Releases
Alastair Reynolds' all-new, Doctor Who: Harvest of Time
Just in time for the 50th anniversary of hit show Doctor Who, the master of modern space opera delivers a spectacular original novel in the Doctor Who universe featuring the Third Doctor, as played by Jon Pertwee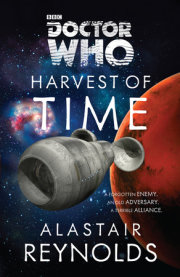 Alastair Reynolds
Imprint: Broadway Books
On sale: June 4, 2013
Price: $9.99
Pages: 368
ISBN: 9780385346801
Contact:
Lauren Kuhn
212-782-8637
lkuhn@randomhouse.com
"If you're wondering whether the books can possibly live up to the TV series, get this: the authors include Justin Richards, who has written other Who books and is Creative Consultant for BBC Books' line of Doctor Who fiction; and longtime Doctor Who actor/writer Nicholas Briggs, best known as the voice of the Daleks!" wrote Whitney Matheson, USA Today pop-culture columnist and Pop Candy blogger when the first books in Broadway's new Doctor Who tie-in series were published in April. And the latest in this Whotastic series only ups the ante. DOCTOR WHO: HARVEST OF TIME (Broadway Paperbacks; June 4, 2013) will be published just after the season-seven finale and ahead of the 50th anniversary of Doctor Who this fall, and comes from "the most exciting space opera writer working today"(Locus)—acclaimed writer Alastair  Reynolds.
With the series 50th anniversary just around the corner in November 2013, Doctor Who landed on the cover of an Entertainment Weekly in March for the second time in less than a year, and was called "the best pop culture sci-fi around" by TIME (its season-seven premiere last year drew 2.47 million viewers, providing BBC America with its highest rating). With the clamor for all things Doctor Who louder than ever, this latest Broadway novel, a celebration of classic Who with a throwback adventure featuring the Third Doctor, couldn't arrive at a more opportune moment for the series—and Reynolds, one of Britain's most popular and acclaimed science fiction authors, is the perfect writer to teleport readers into the world of classic Who faster than they can say Time and Relative Dimension in Space. 
In DOCTOR WHO: HARVEST OF TIME, the vicious Sild have broken out of confinement a­fter billions of years of imprisonment and plan to conquer the past, with the ultimate goal of rewriting history by enslaving an intellect greater than their own. But on Earth, UNIT is called in to investigate a mysterious incident on a North Sea drilling, and the Brigadier is starting to forget about UNIT's highest-profile prisoner. As the Sild invasion begins, the Doctor faces a terrible dilemma. To save the universe, he must save his arch-nemesis. . . the Master. 
ABOUT THE AUTHOR:  
ALASTAIR REYNOLDS worked as an astrophysicist for the European Space Agency before becoming a full-time writer. His books include Revelation Space (short-listed for the BSFA and Arthur C. Clarke Awards), Chasm City (winner of the BSFA Award), House of Suns (short-listed for the Arthur C. Clarke Award), Terminal World, and Blue Remembered Earth. He lives in Wales, UK.
Related Posts: