Press Releases
Acclaimed designer and author of The New Traditional shares inspiration for refined and comfortable home design
One of Architectural Digest's top 100 designers teaches how to design rooms with style, grace, and history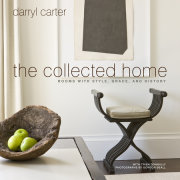 Darryl Carter
Imprint: Clarkson Potter
On sale: October 30, 2012
Price: $45.00
Pages: 208
ISBN: 9780307953940
Contact:
Kim Small
212-572-6067
ksmall@randomhouse.com
Darryl Carter believes that the guiding principle for creating a serene and richly layered home is to view it as a collection. This translates as taking the time to find pieces that have personal meaning for you and always bearing comfort in mind, as well as beauty. The Collected Home: Rooms with Style, Grace, and History (Clarkson Potter; $45; on sale October 30, 2012; hardcover) features Darryl's soothing, refined aesthetic, and reveals the secrets of what makes a space both comfortable and extraordinary.
Darryl provides hands-on advice for approaching home design, such as defining short- and long-term goals, from selecting an antique door knocker to planning the architectural elements of an addition. He reveals how he chooses objects and what makes them interesting (as well as how to look for items that can serve multiple purposes as one's needs evolve), how to select paint colors and use them to connect rooms in the home, and more. His advice is not only enlightening, but it is also surprising, such as his claim that the architectural envelope of the home and what you do to it (molding, window treatments, doors) are just as important—perhaps even more so—than the décor.
In his first book, The New Traditional, Darryl Carter laid out the principles of his widely recognized and beloved design aesthetic, which balances individual comfort with a subtle color palette to achieve serene and timeless style. Now, Darryl explores the essence of what brings a home to life, from textures to multipurpose furniture to unexpected objects, and in The Collected Home, he again dazzles readers with his clean sophistication.
Lavishly illustrated, The Collected Home is a must-have book for anyone who desires a home that feels full of character, comfort, and is unquestionably calm.
#     #     #
ABOUT THE AUTHOR
DARRYL CARTER lives in Washington, DC. His work routinely appears on the pages of major international shelter and lifestyle publications. He has been named one of the top 100 designers in the world by Architectural Digest, one of the top 30 designers in America on Elle Decor's A-list, and in House Beautiful's Who's Who in American Design. His home collections can be visited at www.darrylcarter.com
Related Posts:
You Might Also Like