Press Releases
The Original Dog Tarot by Heidi Schulman is a tongue-in-jowl deck of tarot cards for dog lovers who want to know what their dogs really think
Divine the Canine Mind!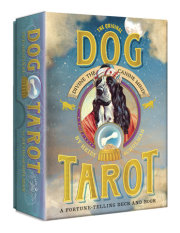 Heidi Schulman
Imprint: Potter Style
On sale: 10/16/2012
Price: $14.95
Pages: 64
ISBN: 9780307984937
Contact:
Kimberly Small
212-572-6067
ksmall@randomhouse.com
Want to know why your dog shreds your slippers but ignores his designer toys? Why he insists on rolling around in the grass 10 minutes after his bath? Or if he likes having the TV on while you're not home?
THE ORIGINAL DOG TAROT: DIVINE THE CANINE MIND! (Potter Style; on sale October 16, 2012; $14.95) has the answers! This entertaining, tongue-in-jowl deck of tarot cards and accompanying booklet is affectionately written for dog lovers who want to know what their dogs really think. The 30 cards are a takeoff on the traditional tarot and are divided into the Major Barkana and Minor Barkana. Simply ask a question, draw a card, and consult the booklet to discover what the card indicates about your dog's past life, present behaviors, and future possibilities. Each card offers advice for both canines and the humans in their lives.
You don't have to be familiar with traditional tarot to use this deck. It is a witty and wise stand-alone oracle for anyone who wants to transcend dog whispering and move straight to canine enlightenment!
#    #    #
HEIDI SCHULMAN is a writer, producer, reporter, and story consultant for television, radio, print, and online media. She has worked for NBC News, CBS News, Reuters, Nickelodeon's Nick News, and the National Geographic Explorer TV series and on independent documentaries and in the educational world. Heidi lives in New Mexico with her beloved dogs, Bosco and Tillie, who were her chief advisers on The Original Dog Tarot. Please visit www.thedogtarot.com.

Related Posts: