Press Releases
A renowned sexologist leads readers on a shame-free journey to empower their sexual selves and act on their untapped desires!
Cuffed, tied, and satisfied by Jaiya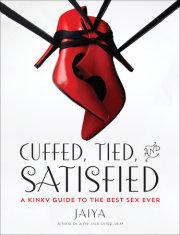 Jaiya
Imprint: Harmony Books
On sale: June 17, 2014
Price: $12.99
Pages: 272
ISBN: 9780804138086
Contact:
Allison Judd
212-782-9164
ajudd@randomhouse.com
Thanks in large part to the runaway success of 50 Shades of Grey, kinky sex has gone mainstream. Dominance play, restraint, sensory stimulation, and power roles are increasingly becoming part of our everyday lexicon, yet many women and couples are still unsure about how to navigate the sensitive topic of kinky experimentation with their partners. Enter CUFFED, TIED, AND SATISFIED: A Kinky Guide to the Best Sex Ever (Harmony Books, Trade Paperback Original, On Sale June 17, 2014) by award-winning sexologist Jaiya, the author of Red Hot Touch and Blow Each Other Away, which brings her approachable, friendly guidance to the world of out-of-the-box sex.
In her new book, Jaiya offers:
Clinically Proven Techniques That Get Results

: Accessible and playful strategies to safely incorporate power play, restraint, and sensation into any bedroom repertoire.  What is a Core Erotic Blueprint and what does it mean about your arousal?  What is the safest way to tie your lover in knots? And how do you truly surrender?

A Fresh Perspective on Power Dynamics, BDSM, and Kinky Play

: Reframes readers' perceptions of kinky sex/BDSM and makes fantasies into accessible realities for everyone. Jaiya also counsels readers to mentally break free from shame and guilt over sexual desires.

Major Myth-Busting Information

!: BDSM gets a bad rap, but research shows that not only is kink in no way unhealthy, but the opposite is true: kinky sex is more often good for you and your relationships! How can women and couples mentally break free from shame and guilt over sexual desires and fantasies?  Why does taboo sex turn us on so much?

A Multimedia Experience

: Throughout the book, there are links to multimedia learning experiences.  Watch videos, read more, listen to interviews, and take a plunge into Jaiya's online world of sexual power, restraint, and ecstasy.
 Jaiya's extensive on-the-ground research as a sexologist has taught her the keys to unlocking sexual comfort, pleasure, and adventure. In CUFFED, TIED, AND SATISFIED she'll share her vital tips for women to shed their inhibitions and assertively seek pleasure they never thought possible.
 ###
 About the Author:
Jaiya is an internationally recognized sexologist, speaker, and author of Red Hot Touch and Blow Each Other Away.  She has appeared on VH1, Good Morning America, TMZ, and other major media outlets.  Visit her online at missjaiya.com for more information.
Related Posts: