Press Releases
A Nice Little Place on the North Side by George F. Will
Wrigley Field at One Hundred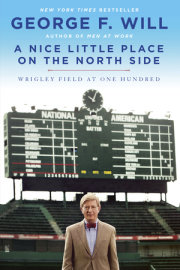 George F. Will
Imprint: Crown Archetype
On sale: March 25, 2014
Price: $25.00
Pages: 224
ISBN: 9780385349314
Contact:
Rebecca Marsh
212-572-2544
rmarsh@randomhouse.com
Just in time for the 100th anniversary of Wrigley Field, bestselling author and award-winning columnist GEORGE F. WILL chronicles the highs and lows of America's most beloved baseball park.
"Digressive, amusing, anecdotal, legend-shattering, self-deprecating and passionate—just what you want in a friend sitting beside you at the ballpark."
—Kirkus Reviews
This baseball season, Wrigley Field—one of the oldest and most storied ballparks in the country, and home to the Chicago Cubs—will celebrate its centennial anniversary. In the new book A NICE LITTLE PLACE ON THE NORTH SIDE: Wrigley Field at One Hundred (Crown Archetype; $25.00; On Sale March 25, 2014), America's leading columnist and devoted Cubs fan George F. Will explores the rich history of this legendary field. A passion project destined to be a baseball classic, Will's latest book is a deeply personal and engaging look at the ups and downs of his favorite team and the place they call home.
George Will was born in Champaign, Illinois, on a Sunday morning in May 1941. That same day, the Chicago Cubs lost to the New York Giants—their third defeat in a row. As Will says, "Had I been paying attention then, this book might not have been written." Instead, he became a lifelong Cubs fan and one of the team's most prominent supporters. In A NICE LITTLE PLACE ON THE NORTH SIDE, the veteran political pundit and renowned baseball writer takes a fascinating stroll through Cubs lore, bringing readers right back to the corner of Clark and Addison.
Though Will's fascination with the ivy-walled "friendly confines" of Wrigley began early on, he has no illusions about what it means to root for a team with the longest championship drought of any major American professional sports franchise. He readily admits that his hapless Cubs have been "generally disappointing and often annoying" for most of his life. The bestselling author of such baseball classics as Bunts and Men at Work, Will investigates the peculiar loyalty of Cubs fans, with wryly funny and surprisingly poignant results. What motivates us, he asks, to keep rooting for the home team against all odds, season after season?
Baseball is full of grandiose metaphors for life and happiness, but Will is interested in the true, hyperbole-free history of this famous ballpark and its century of sport. In examining the field the Cubs hold sacred, he finds Wrigley to be both a cause and a symptom of the Cubs' dysfunction. He calls it "a green and pleasant jewel," often lovelier than the baseball played upon it. But Wrigley has done more than frame Cubs baseball; it has also shaped it.
A NICE LITTLE PLACE ON THE NORTH SIDE manages to be both a love letter to the Cubs and a refreshingly unsentimental take on one of Major League Baseball's most revered spaces. The braided histories of the Cubs, Chicago, and America come alive in Will's narrative—it is at once a meditation on his own upbringing, the growth of the Windy City, the history of America's favorite pastime, and the triumphs and heartbreaks of the Cubs. Along the way, Will shares entertaining stories about the larger-than-life characters—including William and P. K. Wrigley, Hack Wilson, Babe Ruth, Bill Veeck, Leo Durocher, Ernie Banks—who have shaped Wrigley's past, as well as the unexpected ways that famous figures like Jack Ruby, Ray Kroc, and Ronald Reagan are forever linked to the Cubs.
A NICE LITTLE PLACE ON THE NORTH SIDE is baseball writing at its best, a slice of sports history full of amusing anecdotes and surprising connections. With passion, knowledge, and wit, George Will examines the highs and lows of Cubs history, as shaped by the ivy walls of Wrigley and the spirit of one of America's great cities.
ABOUT THE AUTHOR
George F. Will is one of the most widely read writers in the world, with a twice-weekly syndicated column that appears in nearly five hundred newspapers. He is a Fox News contributor and the author of thirteen books, including Men at Work, With a Happy Eye But . . . , Bunts, The Woven Figure, and One Man's America. George Will is a winner of the Pulitzer Prize for Commentary and the Bradley Prize for Outstanding Intellectual Achievement. He lives in Chevy Chase, Maryland.

Related Posts:
You Might Also Like