Press Releases
A new Potter Style postcard box dedicated to The Impossible Project's stunningly vibrant photography
The Impossible Project Spectrum Collection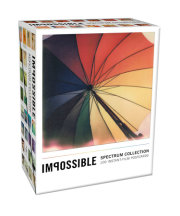 Potter Style
Imprint: Potter Style
On sale: July 2, 2013
Price: $20.00
ISBN: 9780770434342
Contact:
Kim Small
212-572-6067
ksmall@randomhouse.com
In October 2008, the Impossible Project (www.the-impossible-project.com) saved the last Polaroid production plant from destruction and analog instant photography from extinction. Their brand of new and unique instant films singlehandedly prevented more than 300 million perfectly functioning Polaroid cameras from becoming obsolete. The Impossible Project attracts attention globally by hosting an average of eighteen exhibitions annually in five permanent gallery locations (New York, Vienna, Tokyo, Warsaw and Paris) and they host a series of projects and contests on their website, where photographers are invited to use their film and exhibit their images online. In short, the Impossible Project has kept Polaroid's traditional analog creativity alive for photographers and artists worldwide.
THE IMPOSSIBLE PROJECT SPECTRUM COLLECTION (Potter Style, $20; on sale July 2, 2013) is a crowd-sourced assortment of fifty instant-film photos, reproduced as postcards and packaged in a colorful keepsake box. Each photograph highlights one color of the spectrum—from the brightest reds to the darkest purples—creating a vibrant rainbow collection ideal for lovers of the vintage analog aesthetic.
Potter Style has created a new postcard box specifically for this project–an intriguing diagonally cut box resembling an analog photo. Ideal for mailing, sharing, and decorating, THE IMPOSSIBLE PROJECT SPECTRUM COLLECTION is a visual delight for photographers, artists, and those who simply appreciate the beauty of an evocative image.
Related Posts: