Press Releases
A must-have journal for artists looking to jump-start their creativity
The Sketchbook Project Journal: More Than 300 Ways to Fill a Page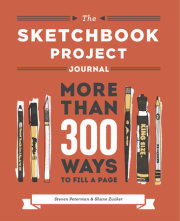 Steven Peterman & Shane Zucker
Imprint: Potter Style
On sale: April 2, 2013
Price: $16.95
Pages: 192
ISBN: 9780770433604
Contact:
Kim Small
212-572-6067
ksmall@randomhouse.com
Founded by two art school friends in 2006, the Sketchbook Project has attracted more than 52,000 creative individuals from more than 130 countries to share their sketchbooks. To enroll, participants sign up on the Sketchbook Project website (www.sketchbookproject.com) and pay an entrance fee to receive a small stapled sketchbook. Participants can choose from themes offered by the Sketchbook Project and mail in their sketchbooks once completed. Every sketchbook is given a unique barcode, shelved in the Brooklyn Art Library, where it is available for public viewing, and taken on tour. This spring, the Sketchbook Project will embark on its annual multicity tour in the new "mobile library," a shelf-lined trailer that opens up to share thousands of sketchbooks with people around the country.
THE SKETCHBOOK PROJECT JOURNAL (Potter Style; $16.95; on sale March 5, 2013) is the Project's first keepsake sketchbook (one meant to be kept by the artist). Each spread features a theme or prompt, providing an inspiring starting point for filling the page. Some of the themes were selected by the Sketchbook Project for their popularity with past participants; most are completely unique to this journal. The journal also boasts a removable jacket, so that artists can customize their own cover. (The unfolded jacket turns into a poster featuring diverse examples of artwork by members of the Sketchbook Project community, so that the artist can see how others have responded to the prompts included in the journal.) Filled with both approachable and offbeat ideas for daytime doodlers and professional artists alike, THE SKETCHBOOK PROJECT JOURNAL is a must-have for jump-starting any artist's creative process.
Related Posts: