Press Releases
This lush, gorgeously illustrated reissue of Nutcracker is brought alive by the wildly imaginative drawings of Maurice Sendak
The beloved Where the Wild Things Are author and premier children's book illustrator of our time brings his unique vision to E.T.A. Hoffmann's classic.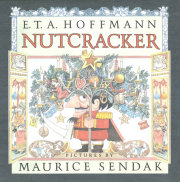 Maurice Sendak
Imprint: Crown Publishers
On sale: October 30, 2012
Price: $24.99
Pages: 120
ISBN: 9780385348645
Contact:
Lauren Kuhn
212-782-8637
lkuhn@randomhouse.com
For many of us, Maurice Sendak illustrated our childhoods. We grew up with the Caldecott Medal–winning book Where the Wild Things Are. Director Spike Jonze may have captured what made Sendak's work so powerful when he described making his film adaptation of the book and explained, "The main goal wasn't to make a children's movie. I wanted to make a movie about childhood." Through the mystical and outlandish, the foreign and bizarre, Sendak took us to worlds far from our own to illuminate a reality of childhood beyond what Disney could allow. It is only fitting that Sendak, internationally renowned for his darkly tinged, numinous storytelling that places him in the tradition of the Brothers Grimm, should return us to E.T.A. Hoffmann's classic The Nutcracker and the Mouse King, upon which so many iterations have been based. Called "a classic, new and complete" by the New York Times Book Review, Sendak's NUTCRACKER (Crown; October 30, 2012) brings to life E.T.A. Hoffmann's mysterious world with his extraordinary illustrations, and this stunning reissue will  be published just in time for the holidays.
Since its premiere in 1954, The Nutcracker has been performed by the New York City Ballet over 2,000 times, carrying children and adults alike into the dreamlike realm of a story that has fascinated and inspired artists, composers, and audiences for almost two hundred years. But the Nutcracker ballet many of us are familiar with is far from the story E.T.A. Hoffmann imagined. When Sendak agreed to design sets and costumes for the Pacific Northwest Ballet's Christmas production of the tale, he made it his mission to restore the "weird, dark qualities that [made the original] something of a masterpiece." As he did in his designs for the ballet, many of which appear as illustrations in this book, Sendak brilliantly renders the wondrous world of the true Nutcracker, restoring to E.T.A. Hoffmann's original all of its magnificent richness and peculiarities.
Reissued at a time when Sendak's legions of fans worldwide are honoring his legacy, this lush and beautifully illustrated edition serves as a wonderful tribute to Sendak's life just before the 50th anniversary of Where the Wild Things Are next year, and his timeless, haunting, and wildly imaginative art illuminates Hoffmann's story in this tantalizing treasure.
ABOUT THE ILLUSTRATOR: In addition to receiving the 1964 Caldecott Medal for Where the Wild Things Are, MAURICE SENDAK received the international Hans Christian Andersen Medal for illustration in 1970, and he remains the only American ever awarded this honor. In 1983, Sendak received the Laura Ingalls Wilder Award from the American Library Association, given in recognition of his entire body of work. He also received a 1996 National Medal of Arts in recognition of his contribution of arts in America. He continued writing and illustrating up until his death in 2012. 
ABOUT THE TRANSLATOR: RALPH MANHEIM, translator of Grimm's Fairy Tales and many other works, was a renowned German-language translator.
Related Posts:
You Might Also Like