Press Releases
A hilariously indulgent conversation-starting game from Emmy-nominated writer and star of The Mindy Project
Questions I Ask When I Want To Talk About Myself by Mindy Kaling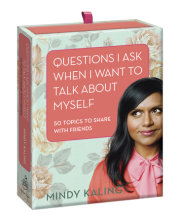 Mindy Kaling
Imprint: Potter Style
On sale: April 2, 2013
Price: $14.95
Pages: 50
ISBN: 9780449819883
Contact:
Kim Small
212-572-6067
ksmall@randomhouse.com
You know Mindy Kaling as an Emmy-nominated writer, the actress famous for playing Kelly Kapoor on The Office, and star of her own show, The Mindy Project. You also know her as the author of the New York Times bestseller, Is Everyone Hanging Out Without Me?, as well as a keen and witty observer of life, romance, and pop culture whom the New York Times has dubbed "Tina Fey's cool little sister."  Most importantly, she's not afraid to share those sharp observations on her blog (TheConcernsofMindyKaling.com) on Facebook or on Twitter (@mindykaling).
So what could be better than a wickedly indulgent conversation-starting game featuring 50 topics selected from her blockbuster book, for anyone, like Mindy, who loves to overshare with their friends? QUESTIONS I ASK WHEN I WANT TO TALK ABOUT MYSELF (Potter Style, $14.95, On Sale April 2, 2013) pulls a bevy of witty and relatable moments from Mindy's book that begs to be discussed among friends. This deck of 50 cards features excerpts from the book with newly created questions and prompts from Mindy.  With topics ranging from "Revenge Fantasies While Jogging" to "Guys Need to Do Almost Nothing to Be Great," this deck offers fans yet another way to connect to one of the most original comedic voices working today.
"Do you think leopard print has developed a certain sophistication of the years of is it still reminiscent of Carmela Soprano?"  Discuss!  Mindy Kaling wants to know!
#    #    #
MINDY KALING is an Emmy-nominated writer and actress on NBC's The Office. You can find her on Twitter (@mindykaling),blogging (TheConcernsofMindyKaling.com) or at her desk pretending to be writing a screenplay but actually online shopping with a memorized credit card number. She resides in Los Angeles.
Related Posts: