Press Releases
A go-to guide for parents with expert photo tips for capturing their child's milestones
Your Child in Pictures: The Parents' Guide to Photographing Your Toddler and Child from Age One to Ten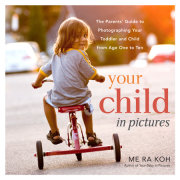 Me Ra Koh
Imprint: Amphoto Books
On sale: October 1, 2013
Price: $19.99
Pages: 144
ISBN: 9780823086184
Contact:
Kim Small
212-572-6067
ksmall@randomhouse.com
From first steps to first days of school, there's no better way to capture a child's milestones than through beautiful photography. In the follow-up to her bestselling Your Baby in Pictures, Me Ra Koh helps parents take emotion-filled photographs in YOUR CHILD IN PICTURES: The Parents' Guide to Photographing Your Toddler and Child from Age One to Ten (Amphoto Books, $19.99, on-sale October 1, 2013). Me Ra has the antidote to digital snapshot overload, inviting parents to slow down, stop taking thousands of so-so photos that languish on the computer, and instead focus on capturing more powerful moments that tell the sweet story of childhood.
Through 40 easy "photo recipes"—all organized by age, explained simply in Me Ra's warm and inviting voice, and paired with adorable photo examples—YOUR CHILD IN PICTURES not only helps parents take better photos, but inspires them to discover photography as a way to connect with, cherish, and celebrate their children. Each photo recipe includes a simple explanation of how to set up and take the photo—with specific camera settings for both point-and-shoots and DSLRs—along with an inspiring photo example taken by either Me Ra or one of the many amateur photographer moms who have taken her workshops.
For example, here is some of her best advice to parents:
You don't need to capture every moment. Me Ra shows parents how to slow down, take a deep breath, and be thoughtful about what photos they take. In other words, "you have to be willing to miss shots to get great shots."

Refuse to say cheese

.

When many of us take a photo, we ask our kids to stop whatever they're doing to look up and smile. Not only can this build resentment within kids for getting their photo taken, but all of your photos end up looking the same. Instead, the idea is to embrace whatever phase your child is going through and photograph it honestly.

Include your kids in the process.

To make photo-taking fun, the secret is to take photos with your kids, not just of them. For example, give your toddler a toy camera so after you take their photo, they can take yours. If you have an older child, ask them for ideas on photos so they can participate in the creative process. Or you can even hand over the camera.
YOUR CHILD IN PICTURES is bound to become the go-to guide for parents looking for photo tips, such as how to take a portrait with a blurry background, how to freeze their child in action, and how to take photos in challenging low-light settings. With Me Ra's guidance, readers will feel empowered to capture the story of their child, and all the while find joy in discovering their own creative eye.
#          #          #
About the Author
ME RA KOH loves cameras, kids, and parents, and spends her time bringing them together. She is host of the Disney Junior TV show Capture Your Story with Me Ra Koh, and the former guest photography expert on The Nate Berkus Show (NBC). She also writes a weekly column for Babble.com called A Focused Life. Her work and photo recipes have been featured on The Oprah Winfrey Show, Lifetime Television, VH1, and Martha Stewart Living Radio, as well as in the New York Times, Parenting, American Baby, Popular Photography, American Photo, and on such websites as Mom It Forward and Today's Mama. Me Ra and her husband and business partner, Brian, are also producers of the award-winning instructional DVDs Refuse to Say Cheese and Beyond the Green Box. She is proud to be a SONY Artisan of Imagery, representing family portraiture, and is a sought-after speaker, with frequent appearances at WPPI, Photo Plus Expo, and female-oriented blogging conferences. For the past four years, Me Ra's CONFIDENCE workshops for women have sold out nationwide. She is also host of the annual SOAR! scholarship for aspiring female photographers. When she is not writing and shooting, she works closely with partners like Disney, SONY, Sesame Street, Nielsen Photo Group and Southwest Airlines to find ways to inspire the creative hearts of moms. And as of spring 2013, you can find her smile at your local Target store! Visit her at www.merakoh.com.
Related Posts:
You Might Also Like