Press Releases
A fully updated guide to creating scintillating syntax!
Sin and syntax by Constance Hale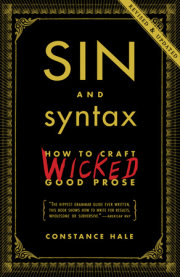 Constance Hale
Imprint: Three Rivers Press
On sale: August 13, 2013
Price: $15.00
Pages: 320
ISBN: 9780385346894
Contact:
Allison Judd
212-782-9164
ajudd@randomhouse.com
"Forget grammar as it was drilled in grade school. Rest assured, you'll get your grammar here, on the theory that it's best to know rules. This book will indeed show you how to avoid red-pen comments, but, more importantly, it'll show you how to make some sinful mischief."
 Today's writers need more spunk than Strunk. To be heard in our crowded marketplace, writing needs to be dynamic in order to be remembered. Journalist, writing teacher, and grammar guru Constance Hale has made it her mission to encourage creative communication from everyone.
With its casual, witty tone, the completely updated SIN AND SYNTAX (Three Rivers Press; paperback; on sale August 13, 2013) explains grammar's ground rules while toying with the conventional boundaries of syntax. The result? Sinfully good writing.  
 Moving from the basic to the sophisticated, SIN AND SYNTAX covers the parts of speech and how to exploit them (in "Words"), shows the parts of a sentence and how to arrange them (in "Sentences"), and reveals how voice, lyricism, melody, and rhythm give prose its mystery (in "Music"). Hale also adds some illicit activity with sections "Cardinal Sins" and "Carnal Pleasures," about syntax do's and don'ts.
 This revised and updated edition contains updated examples and new models. But the most exciting addition now offers readers practical writing exercises to translate grammar lessons into great writing, with an all-new "Catechism" section added to the end of each chapter. Fun challenges, quizzes, and writing prompts will test the reader's grasp of grammatical and stylistic concepts.
SIN AND SYNTAX is a writing guide that's fun to read. Hale draws playful examples from pop culture as well as poignant passages from classic literature to illustrate her points. This edition has also been fully updated to include substantial fresh material commenting on newer forms of writing (Twitter, texting, etc.).
 Everyone needs to write wicked good prose—students, professionals, and seasoned writers alike. Whether you're crafting a tweet or an e-mail or writing a heartfelt essay, SIN AND SYNTAX is the guide that will give you command of the English language.
 ###
About the Author:
Constance Hale, a journalist based in San Francisco, is the author of Wired Style and Vex, Hex, Smash, Smooch. Her eight-part series on writing a sentence is at the New York Times Opinionator blog. She covers writing and the writing life at sinandsyntax.com.
Related Posts: