Press Releases
A first-of-its-kind graphic novel cookbook revealing the vegetarian recipes and story behind one of the country's toughest reservations
Dirt Candy: A Cookbook By Amanda Cohen and Ryan Dunlavey with Grady Hendrix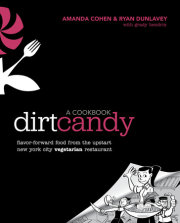 Amanda Cohen and Ryan Dunlavey with Grady Hendrix
Imprint: Clarkson Potter
On sale: August 21, 2012
Price: $19.99
Pages: 224
ISBN: 9780307952172
Contact:
Anna Mintz
212.572.6186
amintz@randomhouse.com
Chef Amanda Cohen conceived of her thimble-sized East Village restaurant as a way to highlight vegetables; it is now one of a select handful of Michelin-recommended vegetarian establishments in America. Just as the eatery bucks tradition, Dirt Candy: A Cookbook: Flavor-Forward Food from the Upstart New York City Vegetarian Restaurant (Clarkson Potter/Publishers; August 21, 2012; $19.99; Trade Paperback) is far from your average cookbook. Beyond the deeply satisfying and surprising all-vegetable recipes, this clever book includes the compelling narrative of the restaurant, illustrated in graphic novel form throughout, from its creation to feeding its regular celebrity clientele.
Though she's a devoted vegetarian chef—and the first one to compete on Food Network's Iron Chef America—Amanda Cohen has abandoned veggie burgers and fake meat and instead dares to build elaborate and fantastic meals with ingredients usually relegated to side dishes. Dirt Candy: A Cookbook features her imaginative recipes, which are indulgent and craved by vegetarians, vegans, and omnivores alike. Some recipes featured in the book include:
Stone-Ground Grits with Pickled Shiitakes and Tempura Poached Egg
Fennel Salad with Candied Grapefruit Pops and Grilled Cheese Croutons
Tomato Spaetzle with Coconut Curry Sauce and Fried Green Tomatoes
Mint and Tarragon Fettuccine with Yogurt Saffron Sauce and Zucchini Relish
Crispy Tofu with Green Ragout and Beurre Blanc Sauce
Smoked Cauliflower and Waffles with Horseradish Cream Sauce
Red Pepper Velvet Cake with Peanut Brittle and Peanut Ice Cream
Just as Amanda Cohen's Dirt Candy restaurant revolutionized vegetarian cooking, Dirt Candy: A Cookbook will make waves as a first-of-its-kind book. At Dirt Candy, the message has always been, "Food should be fun." The graphic novel format of Dirt Candy: A Cookbook gives readers a glimpse into the reality of the restaurant world in an exciting, novel way and demystifies food while providing maximum entertainment to readers. The vegetable recipes featured in the cookbook are sophisticated and daring and sure to be beloved by all.
ABOUT THE AUTHORS:
AMANDA COHEN is the chef-owner of Dirt Candy, an all-vegetable restaurant located in New York City's East Village that is recommended by the Michelin guide. Cohen has written about food for Saveur, Eater, Salon, and Esquire; she and her restaurant have been featured in the New York Times, Food & Wine, and The New Yorker.
RYAN DUNLAVEY's comics and illustrations have appeared in Mad, Wizard, ToyFare, The Princeton Review, Time Out, Royal Flush and Disney Adventures. His other comic works include the graphic novels Action Philosophers and The Comic Book History of Comics (both with writer Fred Van Lente), M.O.D.O.K. and Wolverine for Marvel Comics and Bad Guy for MTV Comics.
GRADY HENDRIX is a journalist who has written for Variety, Slate, and Playboy. He is married to Amanda Cohen.
Related Posts:
You Might Also Like