Press Releases
A fantastic follow-up cookbook from the New York Times bestselling authors of The Casserole Queens Cookbook
THE CASSEROLE QUEENS MAKE-A-MEAL COOKBOOK: MIX AND MATCH 100 CASSEROLES, SALADS, SIDES, AND DESSERTS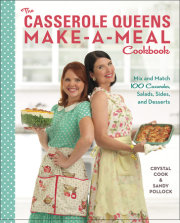 Crystal Cook and Sandy Pollock
Imprint: Clarkson Potter
On sale: August 20, 2013
Price: $17.99
Pages: 208
ISBN: 9780770436803
Contact:
Anna Mintz
212-572-6186
amintz@randomhouse.com
New York Times bestselling authors Crystal Cook and Sandy Pollock are back and solving more dinnertime conundrums with THE CASSEROLE QUEENS MAKE-A-MEAL COOKBOOK: MIX AND MATCH 100 CASSEROLES, SALADS, SIDES, AND DESSERTS (Clarkson Potter/Publishers; on-sale August 20, 2013; $17.99; paperback), which shares 100 amazing recipes and the Queens' fabulous retro-chic style.
THE CASSEROLE QUEENS MAKE-A-MEAL COOKBOOK is jam-packed with quick and easy recipes for fantastic casserole entrées, as well as fresh salads, sides, and desserts, so you can cook a whole dinner from one book. And the Queens have outdone themselves by including lots of recipes that are gluten-free, diabetic friendly, and vegetarian—and a whole chapter of recipes that call for seven ingredients or less. Ding!
Recipes featured in the book include:
CASSEROLES: Shrimp Gumbo Casserole; New England Potpie; Merry Mushroom Bread Pudding; Shepherdless Pie; Monterey Chicken and Rice
SALADS:  Hargill's Bunco Club 7-Layer Salad; Panzanella Salad; Tomato, Goat Cheese, and Quinoa Salad
SIDES: Aunt Fannie's Cabin Squash Casserole; Braised Endive Gratin; Brussels Sprouts with Bacon, Garlic, and Shallots
DESSERTS: Buttermilk Cake with Malted Chocolate Frosting; Pecan Squares; Hot Fudge Sundae Cake
THE BASICS: Perfect Rice Every Time; Roasted Chicken; Mexican Cornbread
Whether you need dinner tonight, a potluck crowd-pleaser, or a fix-and-freeze dish to save for later, THE CASSEROLE QUEENS MAKE-A-MEAL COOKBOOK has everything you need to prepare a delicious homemade meal in a snap.
# # #
ABOUT THE AUTHORS:
CRYSTAL COOK and SANDY POLLOCK, the Casserole Queens, have been delivering casseroles in Austin, Texas, since 2006. They are hosts of the Casserole Queens Web series on YouTube's HUNGRY channel, and they write a monthly column for Woman's Day. They have been featured on NBC's Today, QVC's In the Kitchen with David, Food Network's Throwdown! with Bobby Flay, and Bobby Flay Radio on Sirius XM.
You Might Also Like