Press Releases
A charming collection of typographical errors, slips of the pen, and embarrassing misprints throughout history
Just My Typo by Drummond Moir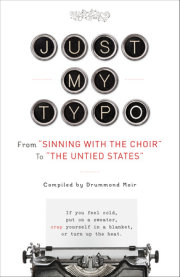 Drummond Moir
Imprint: Three Rivers Press
On sale: July 8, 2014
Price: $11.99
Pages: 192
ISBN: 9780385346603
Contact:
Allison Judd
212-782-9164
ajudd@randomhouse.com
Everybody's been there: that moment when you realize the email to your boss or your thesis paper contains an embarrassing error. But if it's any consolation, typos are everywhere in all manner of texts through history, from Shakespeare to the New York Times. Editors, proofreaders, and writers everywhere pull their hair out trying to eliminate mistakes, to no avail. Isn't it time we learned to laugh at our mistakes instead of despairing over our imperfections?
Drummond Moir's JUST MY TYPO: From "Sinning with the Choir" to "the Untied States" (Three Rivers Press, Trade Paperback Original, on sale 7/8/14), is a hilarious new collection of typos that celebrates the humanity of our errors and the timelessness of mistakes. It is essential reading for anyone who values the power and peril of the written word.
The laugh-out-loud assortment of errors includes typos from a variety of categories, including:
To Be or To Be: typos in literature- 

"From his left ear to the corner of his mouth ran a long scar, the result of a duet many years before." —Flight from Germany, William le Queux 
The Fourth Mistake: typos in the media –

"Germans are so small that there may be as many as one billion, seven hundred million of them in a drop of water." —Mobile Press

The Word Stage: typos of historical & political significance –

"The speaking cock turns 75 years old on Sunday." —The BBC's announcement of the speaking clock's birthday, July 2011

The Lingua Franca: typos abroad – 

"This crud is from the finest milk." —Cheese menu, France

Food for Thought: gastronomic typos- 

"Keeping all food under cover is the first step toward ridding the house of aunts."—Albany Journal
Drummond even includes autocorrect typos, as well as sections detailing legal typos, romantic typos, and biblical typos! JUST MY TYPO will appeal to anyone who needs to be reminded that they aren't alone in their mistakes.
 ###
About the Author:
Drummond Moir grew up in Edinburgh, Scotland, and studied at St Anne's College, Oxford, and Daiichi Keizai University in Fukuoka, Japan. He has worked in publishing since 2006 and is currently editorial director at Sceptre publishers in London.
Related Posts: