Press Releases
THE DRAMA TEACHER by Koren Zailckas
A Novel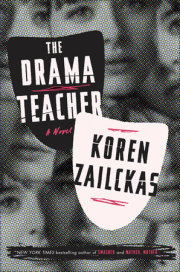 Koren Zailckas
Imprint: Crown
On sale: August 7, 2018
Price: $27.00
Pages: 400
ISBN: 9780553448092
Contact:
Sarah Breivogel
212-572-2722
sbreivogel@penguinrandomhouse.com
From the New York Times bestselling author of Smashed and Mother, Mother, Koren Zailckas, comes a twisty, compulsive new thriller featuring a deliciously devious narrator willing to do anything to give her family a better life.

Select praise for THE DRAMA TEACHER:
"Supremely entertaining and elegantly written, the book is a wicked pleasure." —Daily Mail

"A sharp, smart and suspenseful psychological thriller with a simple twist." —The Independent (UK)
"An unusual female perspective defies expectations and, ultimately, entertains." —Kirkus Reviews
"Mesmerizing . . . Fascinated readers will keep turning the pages." —Publishers Weekly
"…a fast-paced, perfect poolside read." —Library Journal
In 2005, Koren Zailckas published her hugely successful memoir Smashed, the riveting, absorbing story of her teenage alcoholism. The book has sold over a half million copies and has become a touchstone of the memoir genre. Her darkly suspenseful debut novel Mother, Mother, published in 2013, won the Alex Award and received rave reviews from the national media, with the San Francisco Chronicle calling it "A firecracker thriller full of whip-smart psychological insights," and the Dallas Morning News noting it is "one of the most profound and insightful books about mother-child relationships when they go devastatingly wrong."  In her latest novel, THE DRAMA TEACHER (Crown, August 7, 2018), Zailckas has crafted another page-turning psychological thriller, this time featuring a fiercely dedicated mother who is desperate to escape her past.
THE DRAMA TEACHER—which FOX has just picked up for film—stars Gracie Mueller, mother of two and devoted wife to husband Randy. While she deals with the usual stressors and tedium most married couples do—balancing young children, marriage, money—life is comfortable (and mostly honest). However, Gracie has a lot to hide—about where she is from, who she is, and who she has been. When Randy's failing career as a real estate agent makes finances tight and their home goes into foreclosure, Gracie feels she has no choice but to return to the illegal and high-stakes lifestyle of her past in order to ensure her family's future. An expert in false identities, Gracie becomes Tracey Bueller, who later becomes Marianna De Felice. She is an architect, a designer, a musician, and an actress—for Tracey, she can be anything, or anyone.
After a deadly stint upstate when a friend asks too many questions, she leaves town for New York City, finding her way into the best school in Manhattan for her kids, where she gets a job as the drama teacher. As she struggles to keep her web of lies spun taut and her secrets hidden, questions about her past continue to plague her, and she begins to worry that she won't be able to outrun them. She never intended to be a cheat, a liar, a thief, or a killer; she just can't afford for anyone to know what she's done. After all, how many times can a woman lose everything?
Stylishly written with energy, suspense, and startlingly personal insight, THE DRAMA TEACHER confirms Zailckas's growing reputation as a psychological novelist that can stand up to the best of them.
# # # # #
About the Author:
Koren Zailckas is an internationally bestselling writer and has contributed to The Guardian, U.S. News & World Report, Glamour, Jane, and Seventeen magazine. She currently lives with her family in the Catskill Mountains of New York. The Drama Teacher is her second novel.
THE DRAMA TEACHER: A Novel
by Koren Zailckas
Crown • On Sale: August 7, 2018 • Price: $27.00 • Pages: 400
ISBN 978-0-553-44809-2
Also available as an Ebook and on audio
Visit crownpublishing.com or korenzailckas.com.
You can find the author on Twitter @KorenZailckas.
Related Posts:
You Might Also Like