Press Releases
RECIPES FOR INSPIRED GRILLING AND SEASONAL FEASTING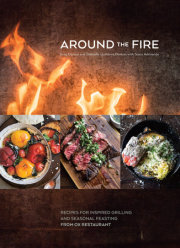 Greg Denton and Gabrielle Quiñónez Denton
Imprint: Ten Speed Press
On sale: 3/29/2016
Price: $35.00
Pages: 272
ISBN: 9781607747529
Contact:
David Hawk
(510) 285-2951
david.hawk@tenspeed.com
"When Greg and Gabrielle met over a wood-fired grill at Terra Restaurant in Napa Valley, the sparks flew, in more ways than one. Their terrific new book is sure to ignite your cooking passion as well. Their restaurant in Portland is called Ox, but this cookbook is not just about the meat:
check out their chapter on grilled vegetables and you'll see what I mean."
—Nancy Silverton, chef and co-owner of the Mozza Restaurant Group
"One way we cooks show love is to feed and nourish people. Greg and Gabrielle's book is a true extension of this idea: it's about the passion that comes from cooking foods over fire, passion you can feel with each turn of the page. These recipes are approachable, yet bold with flavors that will sate you from deep within."
—Cortney Burns and Nick Balla, chefs and authors of Bar Tartine
Take your backyard barbecue game to the next level with Around the Fire, the highly anticipated and innovative debut cookbook from Greg Denton and Gabrielle Quiñónez Denton. These are black-belt, year-round grilling recipes (all adapted for standard woodfueled, charcoal, and even gas home grills) – inspired by the live-fire cooking traditions of Latin America, as well as the seasonal philosophy of their Portland, Oregon restaurant, Ox – that will change the way you think about and cook with fire. Around the Fire is all about sharing craft and creativity, inspiring new menus, and helping to create new associations with the grill and new memories around it. Inventive, flavorful, and achievable recipes showcase unexpected cuts (like Grilled Lamb Shoulder Chops with Rosemary Marinade or Grilled Wild Halibut on the Bone with Toasted Garlic-Lemon Oil) and seasonal produce (Grilled Butternut Squash with Za'atar and Charred Green Onion Yogurt and Grilled Artichoke with Espelette Mayo will delight vegetarians and carnviores alike). Rounded out with plenty of starters, salads, desserts, and drinks, Around the Fire will help make your next outdoor feast (which can be surprisingly – and perhaps entirely – vegetarian friendly) the stuff of legend.
Preview Around the Fire, a grilling manifesto from Portland's Ox: http://pdx.eater.com/cookbook-around-the-fire.
About the Authors:
Greg Denton and Gabrielle Quiñónez Denton are the chefs and owners of the critically acclaimed Ox Restaurant in Portland, OR. The James Beard Award finalists and Food & Wine best new chefs have earned rave reviews and legions of fans for their creative and edgy cooking. Stacy Adimando is a food and travel journalist and cookbook author whose work has been published by NPR, Bon Appétit, Conde Nast Traveler, Food & Wine, Forbes, and many more. She lives in San Francisco.
Related Posts: