Press Releases
How God Uses Broken People to Do Big Things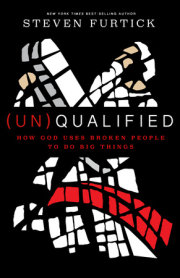 Steven Furtick
Imprint: Multnomah Books
On sale: 03/08/2016
Price: $19.99
Pages: 224
ISBN: 9781601424594
Contact:
Beverly Rykerd
(719) 268-1935
brykerd@penguinrandomhouse.com
"God doesn't call the qualified. He qualifies the called. This book will challenge you and encourage you into a life characterized by prayerful dependence and decisiveness—your life will never be the same."
—MARK BATTERSON, lead pastor of National Community Church, Washington, DC, and New York Times best-selling author 
"All humans strive to be stronger than we really are, better than we really are, and more than we really are. That's not bad…it just won't work. And as Steven shows, it leads us even further away from who we truly are and who we want to become. This book will help you get more comfortable in your own skin, stop the striving, and see the truth of how God's power flows when we can be real."
—DR. HENRY CLOUD, clinical psychologist, acclaimed leadership expert, and best-selling author
"In (Un)Qualified my friend Steven Furtick reminds us that God's qualification system is very different from ours. If you're anything like me, that's a welcome reminder and a big relief! In these inspiring pages Steven speaks bold, helpful truth in a humble and honest way. He encourages us to lose the labels we've placed on ourselves and live instead in the revelation of a God who can even turn our weaknesses into strengths. This brilliant book really resonated with me, and I know it will with you too."
—MATT REDMAN, worship leader and Grammy-winning songwriter
"Not only does Pastor Steven give voice to the hurt we so often stuff down deep when someone makes us feel as if we're not good enough, but he also points us back to the only One who can truly measure our potential. (Un)Qualified will strategically and biblically show you that even when we're overlooked by people, we are handpicked by God to play a part in his magnificent plan. This is such a needed message for today!"
—LYSA TERKEURST, president of Proverbs 31 Ministries and New York Times best-selling author
"In a culture obsessed with perception and perfection, (Un)Qualified is a refreshing reminder that God uses even our weaknesses to our advantage. It will help you see yourself with more faith and courage than ever before."
—ANDY STANLEY, senior pastor, North Point Ministries, Atlanta
Steven Furtick Challenges the Question:
What Makes Us Qualified?
Pastor Steven Furtick used to think the answer to his failures was to fix them, that the solution to his weaknesses was to replace them with strengths. He believed that his character and competency qualified or disqualified him. That is until an online critic caught his attention and made him start asking questions.
In (Un)Qualified: How God Uses Broken People to Do Big Things (March 1, 2016, Multnomah Books), Furtick teaches about the discoveries he's made while wrestling with questions about self-acceptance and self-improvement. He shares the answers he's found in scripture that have helped him reconcile who he is compared to who he is meant to be.
(Un)Qualified is about finding and embracing who you are in light of who God is. It's a book about coming to terms with the good, the bad, and the unmentionable in your life and learning how to let God use your mess for your benefit," writes Furtick, who is also lead pastor and founder of Elevation Church in Charlotte, N.C., which celebrates its 10th anniversary in 2016.
Drawing from the Bible, Furtick uses the story of Jacob to address issues of identity, fear, weakness, comparison, and change. In his witty, high-energy and insightful style, Furtick equips the reader to understand what it truly means for a follower of Christ to be qualified.
"As I've wrestled with my own questions, I've found myself changing," says Furtick. "I've learned some things about weakness that I never understood before. I've come to see God and myself differently, and it's changing the way I parent, the way I pastor, and the way I approach God."
(Un)Qualified is an ideal resource for those struggling with the gap between their present reality and their hope for the future. It offers encouragement and inspiration to readers to see themselves as God sees them. After all, as Furtick teaches, "God can't bless who you pretend to be."
For more information, visit www.iamunqualified.com or www.waterbrookmultnomah.com.
# # #
ABOUT THE AUTHOR:
Steven Furtick is the New York Times best-selling author of Sun Stand Still, Greater, and Crash the Chatterbox. He is also the founder and lead pastor of Elevation Church in Charlotte, N.C., which since its founding in 2006 has grown to more than 20,000 attendees across multiple locations. He speaks at major conferences across the US and around the world. Furtick holds a Master of Divinity degree from Southern Baptist Theological Seminary. For additional information, visit. www.stevenfurtick.com.
Facebook: https://www.facebook.com/StevenFurtick
Twitter: @stevenfurtick
Related Posts: