Press Releases
Rediscover the Traditions of the Catholic Faith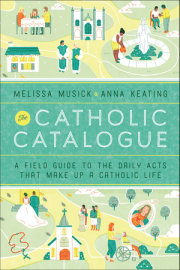 Melissa Musick and Anna Keating
Imprint: Image Catholic Books
On sale: 2/23/2016
Price: $25.00
Pages: 432
ISBN: 9781101903179
Contact:
Jessica Brown
212-572-2229
jebrown@penguinrandomhouse.com
A Life that Moves through Cycles and Seasons
Rediscover the Smells, Tastes, Sounds, and Traditions of the Catholic Faith
Being Catholic means living a life and not just on Sundays.
While some of us grew up celebrating St. Lucy's Day with breakfast in bed, putting our shoes out on the eve of St. Nicholas' day, or cooking minestrone soup on the Memorial of St. Joseph the Worker, many of us did not. Sadly, many cultural practices such as these have disappeared from the daily lives of modern Catholics.
In The Catholic Catalogue (on sale Feb. 23), mother-daughter team Melissa Musick and Anna Keating bring new light to traditions that have been lost through the years and reveal how Catholics can keep the spirit of Sunday in every day.
"This book is an opportunity to discover, or rediscover, the sounds and sensations of being Catholic," write the authors.
With its vast collection of recipes, devotionals, crafts, and ideas for celebrating the feast days, this beautifully designed field guide will help any Catholic—whether steeped in the tradition or just discovering spirituality for the first time—to come and see the daily acts that make up a Catholic life.
"Perhaps you grew up Catholic but you're not sure what it means to be Catholic," write the authors. "Maybe you want to know more about your faith and its practices. Perhaps you are
considering joining the Church, or you just joined and you're wondering how to keep track of feast days and name days and maybe wondering why they even matter. Maybe you're wondering what a wake is and how it differs from a funeral. Maybe you're wondering what it means to keep Lent. Maybe you'd like a book to give non-Catholic friends and family who have questions about the flock of which you are a part. If so, this book is for you."
With more than 75 inspiring chapters, The Catholic Catalogue promises to be a resource that individuals and families turn to again and again.
Topics covered in The Catholic Catalogue include:
• The veneration of relics
• Blessing your house
• Discovering a vocation
• Raising teenagers
• Getting a Catholic tattoo
• Planting a Mary garden
• Finding a spiritual director
• And much more!
About the Authors:
MELISSA MUSICK is a columnist for National Catholic Reporter and Celebration. She is the author of eight books on religion and spirituality. Her essays have appeared in First Things, Commonweal, GIA, Notre Dame Magazine, Catholics in Alliance for the Common Good, National Review, and Give Us This Day. She graduated from Grinnell College and St. Thomas Seminary, and was a college chaplain for nine years.
ANNA KEATING is a freelance writer and former high school teacher. Her essays have appeared in First Things, Salon, America, Notre Dame Magazine, Commonweal, the Denver Post, and elsewhere. She graduated from Notre Dame and serves on the advisory council for the Institute for Church Life at the University of Notre Dame. She also owns and lives above Keating Woodworks, a handmade-furniture studio in Colorado.