Press Releases
Harness the Power of Behavioural Science to Transform Your Working Life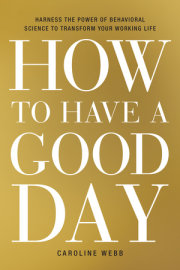 Caroline Webb
Imprint: Crown Business
On sale: 2/2/2016
Price: $26.00
Pages: 368
ISBN: 9780553419634
Contact:
Megan Perritt
212-572-2543
mperritt@penguinrandomhouse.com
"How to Have a Good Day is a smart, thorough, and eminently practical book. Just about every page offers a science-based tip to help you become better off — or, in many cases, just plain better."
—Daniel H. Pink, author of To Sell is Human and Drive
"Behavioral science has come of age in recent years, and it has begged for a world-class translator. Now we have one. Caroline Webb's peerless translation of the behavioral sciences into tools for shaping the quality of our day is the book we've been waiting for. Play with just 2% of the ideas in this book, and you might just end up changing your life's course. Words like 'magisterial' come to mind. Bravo."
​—Tom Peters, co-author of award-winning bestseller In Search of Excellence
"Finally, a practical book based on evidence. How to Have a Good Day is grounded in state-of-the-art research on behavior and neuroscience, and animated with vivid examples from professionals who have successfully applied Webb's advice. It might even leave you looking forward to your next tricky conversation or challenging task as an opportunity to try out her tips."
—Adam Grant, Wharton professor and New York Times bestselling author of Give and Take and Originals
"Almost all of us work in environments where our time is stretched far too thin. How to Have a Good Day helps us rise to that challenge, containing ideas and techniques that show us how to be at our own personal and professional best every day."
​—Tony Hsieh, New York Times bestselling author of Delivering Happiness and CEO of Zappos.com, Inc.
"There's a big difference between having a great, productive day and having a bland, ordinary one. Caroline Webb deftly explains how to squeeze the most out of twenty-four hours, to create more of the former. Very useful."
—Sir Michael Moritz, Chairman of Sequoia Capital
"A powerful toolkit to improve both work and wellbeing. From email and meetings to making the most out of every day, Webb shows us not just how to be more productive, but how to be more fulfilled along the way."
—Jonah Berger, Wharton professor and bestselling author of Contagious and Invisible Influence
Science-Based Tactics to Take Control of Your Life and Career
New findings in behavioral science are giving us a better understanding of how our brains work, why we make the choices we do, and what it takes for us to be at our best. But it's been challenging to see how to apply these insights in the real world—until now.
In HOW TO HAVE A GOOD DAY (On Sale: February 2, 2016, Crown Business), economist and former McKinsey partner Caroline Webb shows readers how to use recent discoveries from behavioral economics, psychology, and neuroscience to transform our approach to everyday working life. She translates three big scientific ideas (the Two-System Brain; the Discover-Defend Axis; and the Mind-Body Loop) into step-by-step guidance that enables us to ace each of our tasks and conversations, even when we're feeling under pressure. Webb gives us specific tools to navigate the typical challenges of modern workplaces—from conflict with colleagues to dull meetings and packed inboxes—with skill and ease. And she shows us exactly how to build these science-based techniques into our daily routines to give us more control over the quality of our days.
HOW TO HAVE A GOOD DAY is arranged around seven practices that are central to having a good day:
• PRIORITIES: Setting Intentional Direction for Your Day
• PRODUCTIVITY: Making the Hours in Your Day Go Further
• RELATIONSHIPS: Making the Most of Every Interaction
• THINKING: Being Your Smartest, Wisest, Most Creative Self
• INFLUENCE: Maximizing the Impact of All You Say and Do
• RESILIENCE: Sailing Through Setbacks and Annoyances
• ENERGY: Boosting Your Enthusiasm and Enjoyment
Caroline Webb has worked with hundreds of businesses to help their leaders and employees be more productive, energized, and successful at work—first as a partner at McKinsey, where she worked for more than a decade and continues to serve as an advisor, and now as CEO of Sevenshift. As an economist and a renowned executive coach trained in psychology and neuroscience, she has both academic credentials and years of hands-on practical experience in designing science-based interventions to help people thrive. As a result, her new book, HOW TO HAVE A GOOD DAY (on sale February 2, 2016, Crown Business), is a powerful blend of science, stories, and practical steps that readers can immediately apply in their own lives.
Filled with examples of people who have used Webb's insights to boost their job satisfaction and performance at work, HOW TO HAVE A GOOD DAY is the book so many people wanted when they finished Nudge, Blink, and Thinking Fast and Slow and were looking for practical ways to apply this fascinating science to their own lives and careers. Finally, there is an engaging book of real scientific merit that offers the trustworthy advice we need to improve our day.
A remarkable and much-needed book, HOW TO HAVE A GOOD DAY gives us the tools we need to have a lifetime of good days—and what better way to kick off a lifetime of good days than to create a space for happiness in the place we spend most of our adult lives, the workplace.  In the following article, Caroline shares 12 practical tips with Cosmopolitan readers on how to feel happier at work—even if you hate your job: http://www.cosmopolitan.com/how-to-be-happy-at-any-job.
ABOUT THE AUTHOR
Caroline Webb is a management consultant and executive coach who has spent fifteen years at McKinsey and at her own firm, Sevenshift, showing clients how to use behavioral science to boost their professional effectiveness. An Oxford and Cambridge trained economist, Webb and her work have been featured in the Financial Times, New York Times, Washington Post, The Economist, Forbes, and on the BBC.
Related Posts:
You Might Also Like