Press Releases
THE 4 X 4 DIET: 4 Key Foods, 4-Minute Workouts, Four Weeks to the Body You Want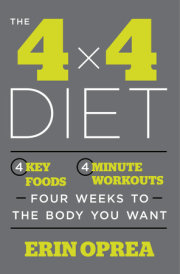 Erin Oprea
Imprint: Harmony Books
On sale: 2/2/2016
Price: $25.99
Pages: 256
ISBN: 9781101903087
Contact:
Rebecca Marsh
212.572.2544
rmarsh@penguinrandomhouse.com
With THE 4 X 4 DIET, celebrity trainer Erin Oprea has created a groundbreaking diet and fitness program used by stars like Carrie Underwood, Jennifer Nettles, and Lee Ann Womack.
"I've had the pleasure of working with Erin for many years now and her approach to food, fitness, and overall health has not only been effective for me, but practical as well. Erin has taught me a lot about physical fitness and has helped me move from 'dieting' to maintaining a consistent healthy lifestyle. The 4×4 diet is a philosophy that anyone can implement into their daily lives in order to change the way they think about what they put into their bodies. It's not a diet…it's a lifestyle. Because if you treat your body like you love it, it will love you back!"
—CARRIE UNDERWOOD, from the foreword
Erin Oprea is a mother of two, a former U.S. Marine, and a renowned personal trainer who works with celebrities like Carrie Underwood, Jennifer Nettles, and Lee Ann Womack. In her first book, THE 4 X 4 DIET: 4 Key Foods, 4-Minute Workouts, Four Weeks to the Body You Want (Harmony Books; $25.99; On Sale February 2, 2016), she reveals a revolutionary program designed to get you "clean and lean" with sustainable and dramatic results.
THE 4 X 4 DIET includes a foreword by Carrie Underwood, who has been working with Erin since 2007. This unique and proven plan focuses on the four clean eating habits and the groundbreaking four-minute workouts that will change the way you look and feel. Within four weeks, the average person will be able to reduce bloating and belly fat; gain increased muscle definition in the arms, legs, and stomach; improve cardiovascular endurance; and break sugar and sodium addictions.
The foundation of THE 4 X 4 DIET is a clean and lean lifestyle, and the first pillar is all about clean eating–the first step on the road to creating the happiest, healthiest you. Erin points out the major hitches in most diets, and teaches readers to embrace four key habits: cutting out starches at night, and cutting back on sugar, sodium, and alcohol. She shows you how to switch out your evening snacks, dinners, and desserts for nonstarchy options, and shares recipes, on-the-go meal ideas, and her favorite ingredients and kitchen tools.
The second pillar of THE 4 X 4 DIET is about getting lean through Erin's game-changing four-minute tabata workouts. Tabata is high-intensity interval training, involving 8 repetitions of 20 seconds of high-intensity moves, followed by 10 seconds of rest. Erin encourages readers to treat it like a game–challenge yourself, use a timer, mix and match moves, and remember that you can do anything for 20 seconds. Her specially designed workout plan takes you from beginner to intermediate to advanced status, and will leave you feeling strong, fit, and full of energy.
Erin has dedicated her life to health and fitness. She received her first certification as a personal trainer at 18 years old. And at 20, she enlisted in the U.S. Marine Corp. With nine total years of service including two tours of duty in Iraq, Erin made history when she was appointed to lead the first female platoon attached to the infantry in a war zone. While serving her country, she became even more aware of the importance of physical fitness and nutrition. Now as a personal trainer, she trains top executives, celebrities, and other elite clients.
THE 4 X 4 DIET is the same plan Erin uses to help her clients sculpt and maintain the toned physiques they've become famous for. Complete with recipes, workouts, and tips for making "clean and lean" part of your daily life, it is perfect for anyone looking to streamline their body and lifestyle. In celebration of the launch of the book, here's a chance to win a trip to Nashville, a training session with Erin, and more!  For further details and to enter, follow the link: http://www.booksforbetterliving.com/the-4×4-diet-sweepstakes!
ABOUT THE AUTHOR
Erin Oprea is a NESTA- and AFAA-certified personal trainer as well as a former U.S. Marine who served two tours of duty in Iraq. She has worked with celebrities such as Carrie Underwood, Jennifer Nettles, and Lee Ann Womack, and has earned the title of "Trainer to the Stars." She is also a regular contributor to People.com, Parade, and MindBodyGreen.com, and has been featured in Glamour, E!, Women's Health, Vogue.com, and the Huffington Post. She currently lives in Nashville with her husband and two boys.
Related Posts: