Press Releases
Jesus Speaks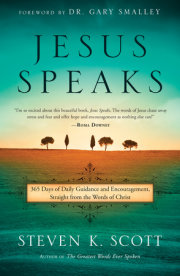 Steven K. Scott
Imprint: WaterBrook Press
On sale: 12/15/2015
Price: $19.99
Pages: 384
ISBN: 9781601428424
Contact:
Brett Benson
(719) 264-5661
bbenson@penguinrandomhouse.com
"Steven Scott's love for God, personal application of Scripture, and impressive understanding of Jesus' heart for His people comes out on every page. I'm certain that readers will grow in their intimate relationships with the Father as they focus on Jesus' words daily through Mr. Scott's profound and encouraging writing."
—Dr. Charles Stanley, senior pastor of First Baptist Church, Atlanta and president and founder of In Touch Ministries
"Jesus' words can replace stress with peace, sadness with joy, confusion with guidance, and fear with faith. That's why Jesus Speaks will not only change your day, but it can also change your life, your relationships, and your eternity!"
—Christine Caine, best-selling author of Undaunted
"We express God's love language when we hear His Son's words, and obey them. That's why Jesus Speaks can be so transformational to those who want true intimacy with God."
—Gary Chapman, PhD, author of The Five Love Languages
"I am convinced that Jesus Speaks will help you come to know Jesus in a greater way than you have ever imagined possible."
—Dr. Gary Smalley, from the Foreword
"I absolutely love Jesus Speaks! I am coming to love Jesus more and more as I gain a deeper understanding of who He is through what He says in His own words!"
—Sandi Patti, Grammy Award–winning Christian artist
"I'm so excited about this beautiful book, Jesus Speaks. The words of Jesus chase away stress and fear and offer hope and encouragement as nothing else can."
—Roma Downey
Help for Readers to Immerse
Themselves in the Words of Jesus
What would happen if believers saturated their daily lives with the words of Jesus?
"Listening to the words of Jesus with the desire to obey and love God will change your life," says New York Times best-selling author Steven K. Scott. "Your faith will be strengthened, you will know God's desires for your life, and your doubts and fears will evaporate."
For close to 10 years, Scott has been studying and meditating on the words of Jesus in Scripture and it has brought him to a greater level of intimacy with Christ than he has ever known. Helping other Christians immerse themselves in the words of Jesus has become his life mission.
After the tremendous response to Scott's The Greatest Words Ever Spoken, which categorizes all 1900 statements of Christ, he was inspired to create Jesus Speaks: 365 Days of Daily Guidance and Encouragement, Straight from the Words of Christ (WaterBrook Press, 12/15/2015). This unique devotional offers a brief reading for each day of the year with the red-lettered words of Jesus directly from Scripture. Each day also includes a powerful reflection on how He wants believers to apply His truths to our daily lives. Readers are invited to grow in their love for God and deepen their faith as they learn about Jesus through His words.
With its brief, daily readings focused on the words of Jesus, Jesus Speaks is perfect for Christmas and New Year reading. It is sure to be a treasured devotional for years to come.
ABOUT THE AUTHOR
Steven K. Scott is the New York Times best-selling author of numerous books including The Greatest Words Ever Spoken, The Jesus Mission, and The Richest Man Who Ever Lived. Using the laws of success he learned from the book of Proverbs, Scott and his partners have built more than a dozen highly successful U.S. and international companies. He is active in the executive leadership of Knowing Him International, a non-profit ministry. Scott has been interviewed on numerous media outlets including Larry King Live, The 700 Club, and Life Today with James and Betty Robison. In his teaching ministry, Scott emphasizes the unique role and miraculous power of Jesus' words in the lives of believers. He says, "As we abide in Jesus' words, we can experience His fullness and come to know Him more intimately than we have ever imagined." Connect with him at JesusWords.com.
Related Posts: