Press Releases
Unlock the Astonishing Power of Your DNA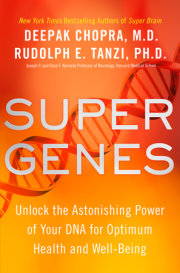 Deepak Chopra, M.D. and Rudolph E. Tanzi, Ph.D.
Imprint: Harmony
On sale: 11/10/2015
Price: $26.00
Pages: 336
ISBN: 9780804140133
Contact:
Tammy Blake
(212) 572-2542
TBlake@penguinrandomhouse.com
Ground breaking new book by bestselling authors Deepak Chopra, M.D. and Rudolph E. Tanzi, PH.D. Shows You How to Influence your Genes to Achieve Optimal Health
For decades, we've been taught that genes are fixed and unchangeable. Not so, say New York Times bestselling authors Deepak Chopra and Rudolph E. Tanzi. "It's time to explode such rigid notions," write the authors of their eagerly anticipated new book, SUPER GENES (Harmony Books; on sale November 10, 2015). "Your genes are fluid, dynamic, and responsive to everything you think and do. The news everyone should hear is that gene activity is largely under our control." Citing the most up-to-date research, Dr. Chopra, a pioneer of integrative medicine, and Dr. Tanzi, a Harvard University professor and acclaimed researcher and expert on Alzheimer's disease, assert that your lifestyle choices—such as the food you eat, your stress levels, and the amount of sleep you get—directly influence your genes' activities and your overall happiness and health.
The new genetics is undergoing a revolution that for the first time opens the way for people to influence their health in unsuspecting ways. The latest research reveals that a program of positive lifestyle changes alters 4,000 to 5,000 different gene activities. It's also been discovered that only 5% of disease-related gene mutations are fully deterministic, while 95% can be influenced by diet, behavior, and other environmental conditions, proving that lifestyle leads to helpful or harmful genetic activity. By focusing on and optimizing your own cellular activity through conscious choices outlined in SUPER GENES, Chopra and Tanzi declare that you can:
• improve your mood level, staving off anxiety and depression;
• resist yearly colds and flu;
• return to normal sound sleep;
• gain more energy and resist chronic stress;
• slow the aging process;
• normalize your metabolism;
• decrease your risk of cancer.
In addition, Chopra and Tanzi walk you through six lifestyle choices—diet, stress level, exercise, meditation, sleep, and emotions—that can radically enhance our well-being. Equally compelling, the authors examine cutting-edge research on the tiny microbes that inhabit our intestines, mouth, and skin—all part of a new understanding of what we are talking about when we talk about genes—and provide practical ways to reprogram our bodies for optimum well-being.
Mixing thrilling science, practical applications, and spiritual wisdom, SUPER GENES will revolutionize how we understand ourselves and the health of those around us.
# # #
ABOUT THE AUTHORS:
DEEPAK CHOPRA, M.D., FACP, founder of the Chopra Foundation and cofounder of the Chopra Center for Well-being is a world-renowned pioneer in integrative medicine and personal transformation, and is board certified in internal medicine, endocrinology, and metabolism. He is the author of more than 80 books translated into over 43 languages, including numerous New York Times bestsellers. TIME magazine has described Dr. Chopra as "one of the top 100 heroes and icons of the century." The WorldPost and the Huffington Post global internet survey ranked Dr. Chopra "#40 influential thinker in the world" and "#1 in Medicine."
RUDOLPH E. TANZI, PH.D., is professor of neurology and holder of the Joseph P. and Rose F. Kennedy Endowed Chair in Neurology at Harvard University. He also serves as the director of the genetics and aging research unit and as vice-chair of neurology at Massachusetts General Hospital. Dr. Tanzi was named to TIME magazine's "TIME 100 Most Influential People in the World" and the Harvard "100 Most Influential Harvard Alumni." He has also received the highly prestigious Smithsonian American Ingenuity Award for his pioneering studies of Alzheimer's disease.
Related Posts:
You Might Also Like