Press Releases
Bullshit
A Lexicon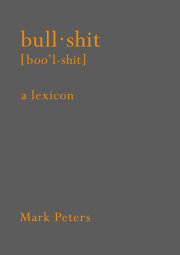 Mark Peters
Imprint: Three RIvers Press
On sale: October 27, 2015
Price: $16.00
Pages: 180
ISBN: 9781101904534
Contact:
Allison Judd
212-782-9164
ajudd@penguinrandomhouse.com
"My favorite thing in the world to read is trivia. But it has to be smart, funny, well-written, well-researched, and a bit distasteful. This fascinating book delivers on all counts."
—Jack Handey, author of Deep Thoughts and The Stench of Honolulu
Hogwash. Phooey. Baloney. You may think you know your bullshit, but have you ever heard of ackamarackus, felgercarb, or Bovril? Where did the word balderdash come from? Perhaps you're wondering how to work squit into your vocabulary?
We all deal with plenty of bullshit in our lives, but sometimes that one word just won't suffice for the situation at hand. Enter BULLSHIT: A Lexicon (Three Rivers Press, On Sale October 27, 2015) by Mark Peters, a collection of more than 200 words and phrases that signify bullshit, both well-known and obscure, filthy and euphemistic. Every language in the world, even fictional ones (like Klingon's targ manure) has a word for bullshit. Whether it's lamenting an injustice or calling someone out on their crap, bullshit is everywhere, but not all of it is created equal. BULLSHIT teaches readers new, colorful phrases they can add to their vocabulary and impress their friends.
With drawings throughout by New Yorker cartoonist Drew Dernavich, BULLSHIT is the handy guide to identifying and calling BS in all of its many forms. Packed with historical facts, pop-culture tidbits, and definitions for each term, BULLSHIT is for humor readers, language lovers, and anyone looking to describe life's everyday annoyances—a fun, witty guide for anyone looking for new ways to express poppycock, shazbot, or flubdub.
###
About the Author:
MARK PETERS is a card-carrying member of the American Dialect Society who has written articles about language for Esquire, Forbes, Mental Floss, Columbia Journalism Review, Slate, and Visual Thesaurus (where he writes a column about euphemisms). A Second City Writing Program graduate, he also writes the Best Joke Ever column for McSweeney's. DREW DERNAVICH is a cartoonist and an illustrator who regularly contributes to The New Yorker. His work has been featured in the Boston Globe, Time, and Harvard Business Review.
Related Posts: