Press Releases
With more than 100 seasonal recipes for twenty dinners, Grizzly Bear's Chris Taylor and photographer and former professional cook Ithai Schori share their passion for making good food happen and feeding friends in a relaxed, enjoyable way
Twenty Dinners by Ithai Schori and Chris Taylor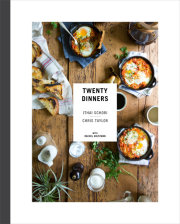 Ithai Schori and Chris Taylor
Imprint: Clarkson Potter
On sale: April 7, 2015
Price: $37.50
Pages: 272
ISBN: 9780385345286
Contact:
Anna Mintz
212-572-6186
amintz@penguinrandomhouse.com
When he's on tour with his band, Grizzly Bear, what Chris Taylor misses most about home is the comfort of the kitchen and his friends and family who fill it. Together, Chris and his friend, photographer and former professional cook Ithai Schori, decided to rent a house in Hudson, NY, so that they could cook dinner parties for groups of four to forty close friends over the course of a year. Using techniques that Ithai honed working at high-end restaurants in New York City and skills that Chris learned from his mom and perfected during "stages" at some of the world's top restaurants, they worked their way through twenty dinners. The result is the sumptuously photographed cookbook Twenty Dinners (Clarkson Potter; April 7, 2015; $37.50; Hardcover), which shows readers how and why cooking can be a relaxed, beautiful thing. Through menus of more than 100 seasonally arranged recipes and gorgeous, evocative photographs of their gatherings, you fall into their world, where you and your friends have all day to put food on the table, and where there's always time for another glass of wine before dinner.
Because Twenty Dinners is about cooking not just for, but with, your friends, Ithai and Chris enlisted their favorite pastry chef, mixologist, sommelier, and baristas to write detailed material on wine pairings, desserts, stocking a home bar, mixing drinks, and buying and brewing fantastic coffee. Menus and recipes featured in the book include:
DINNER 1, FALL: Sliced Fluke, Plum, and Cilantro; Seared Kale Salad with Brown-Butter-Toasted Pine Nuts and Smoked Bacon; Roast Chicken; Morel and Shiitake Mushroom Risotto; Maple Panna Cotta with Candied Almonds and Buttered Bread Crumbs (pair with: a dry, light white, such as Grüner Veltliner, or a very light red, such as an Old Vine Cru Beaujolais)
DINNER 10, WINTER: Pork Chops and Charred Applesauce; Braised Fennel with Mint; Roasted New Potatoes; Lillie's Sticky Toffee Pudding (pair with: a light and slightly juicy red, such as Pinot Noir or Cabernet Franc)
DINNER 14, SPRING: Roasted Lamb Chops; Sautéed Ramps; Spiced Carrots and Harissa Yogurt; Mina's Olive Oil-Walnut Cake (pair with: spicy Loire red with high acid, such as Pineau d'Aunis or Gamay)
DINNER 17, SUMMER: Slow-Roasted Eggplant Crostini; Seared Scallops with Corn and Andouille "Grits"; Israeli-Style Tomato Cucumber Salad with Fried Soft-Boiled Egg (pair with: Vinho Verde or a light sparkling red, such as Lambrusco)
With Twenty Dinners, Ithai and Chris offer a beautiful cookbook of twenty big dinners' worth of recipes, their favorite techniques and points of inspiration, and the ideas and tools to make these kinds of gatherings happen for you and your friends.
# # #
ABOUT THE AUTHORS:
ITHAI SCHORI is a photographer, videographer, and former professional cook.
CHRIS TAYLOR is a musician, producer, songwriter, and member of the indie rock band Grizzly Bear. A home cook since the age of nine, he's also done "stages" at London's St. John Bread & Wine, Noma in Copenhagen, and The Crimson Sparrow in Hudson, NY. While on tour, Chris dreams of grocery shopping. 
Related Posts:
You Might Also Like